There's Something About the Air – How My African Safari Changed My Life. Written by Robert Townshend. | Hero photo: The Lion – One of Africa's "Big Five", taken by Robert.
As I stepped out of the busy airport terminal at Johannesburg's Tambo International Airport, I noticed there was something different in the air, but I couldn't put my finger on it. Something in the air allowed me to breathe deep inside my soul, which resulted in a feeling I had never had before. I felt different than I do in my native Canada.
My invitation to South Africa…
I received the invitation to travel to South Africa 11 months earlier. When I opened it I felt the joy of winning a lottery. I was invited to attend a conference in South Africa, and most of it would be paid for. That's when the excitement began to build. Time passed by very quickly as I got to my departure date. It felt surreal that I was travelling to a continent I'd never been to, a continent so rich in culture, wildlife, and gracious inhabitants.
The Black Rhino – One of Africa's "Big Five".
The air was unlike anywhere else…
You can't fly directly to South Africa from Toronto, so I booked a connection via Amsterdam. The flight from Toronto to Amsterdam went quickly. And, when we arrived at 7 am, I wasn't even tired as it was just 1 am back home. As I boarded my connecting flight to South Africa, my body was aching for sleep, so I fell asleep somewhere over Italy.
I was lucky to get enough sleep on the plane as I woke up when we were just 45 minutes away from landing in Johannesburg. Customs and baggage collection were quick upon my arrival. The South African customs officials greeted me warmly. I truly felt thankful to have the honour to visit this unique country.
The hotel I booked for my first night was a short walk from the airport terminal, just across the street. Just a quick walk but enough time outside to breathe that fresh air. The air there was unlike anywhere else I've been.
---
Learn about our preferred African safari travel partner: African Travel, Inc.
---
Robert arrives at Hoedspruit, South Africa.
Kruger National Park…
The following day I boarded a quick flight from Johannesburg to Hoedspruit, the closest airport to Kruger National Park, where I would go on a 4-day African safari. The flight was great! I had a window seat and could see the landscape change from the big city to the hot, mountainous desert near Kruger National Park. As we made our descent, the pilots advised us that it would be bumpy due to the heat. We left Johannesburg at 21 C and arrived in Hoedspruit at a balmy 39 C.
Upon arrival my bags were taken off the propeller aircraft and brought right in front of the airport, resembling a tiny schoolhouse. There are no conveyor belts or priority tags here, just the intense heat and warm welcome of the people.
It wasn't long before I saw the first animal…
A driver waiting for me asked me to identify my bags. He put them in the back of the limo for me, and we were off to Thornybush Lodge. My driver was eager to share local cultures and pointed out places of interest as we drove to the Park. As we got close to the park entrance, the paved roadways turned to gravel, and the stone turned to dusty dirt roads. It wasn't long before I saw the first animal I came so far to see, a pair of giraffes leisurely drinking from a pond. The sight of them excited me with such eagerness to stop and watch. I asked the driver to stop, and he gave me time to take pictures and view these amazing creatures.
---
Want to learn more about African safaris, then read, African Safari Tanzania – Track The Big Five in the Ngorongoro Crater
---
Three giraffes by a pond.
We arrive at Thornybush Lodge, South Africa…
The entrance to Thornybush Lodge is heavily secured. The government officials and military are doing their best to stop poachers, but sadly, the practice still exists. The large gates of the Park were in sight, and my 4-day adventure had begun.
Once we passed through the main entrance gates of Thornybush Nature Reserve, it was another 15-minute drive to the entrance of the lodge. When I arrived, the staff was all waiting for us out front. One had a wet cloth to relieve us from the hot sun, the other had fresh juices to rehydrate.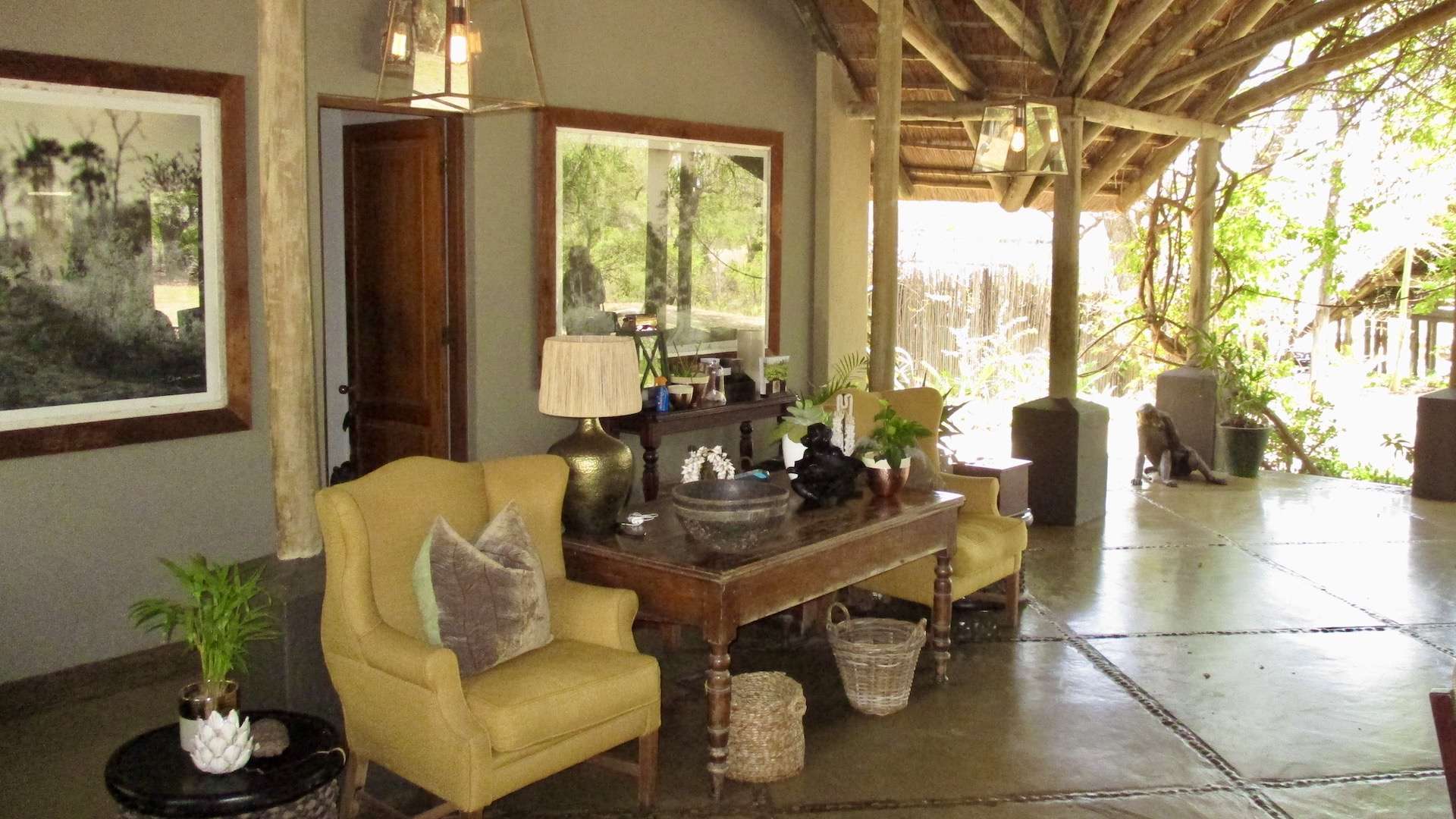 The Thornybush Lodge's opened-air entrance has a beautiful arrangement of furniture and artifacts.
I'm not in Canada anymore…
In the opened-air entrance, guests are overwhelmed with the beautiful arrangement of furniture and artifacts. There isn't a front desk here, just friendly staff members at the entranceway waiting to greet you.
They took my bags to my room and invited me to lunch, my first meal in Kruger. Certainly, the food was delicious, and I got to meet the other members of my safari group. There were 8 of us. The group was small enough to make friendships that I hope will last a lifetime. As I got to know my trip mates, we were suddenly surprised at lunch by an extremely fast monkey who had his eyes on a piece of bread on the table. He arrived and departed with bread in hand within a half-second. That experience startled some, but it just reminded me that I'm not in Canada anymore.
---
Travel Specialty: LUXURY TRAVEL.
---
South Africa's Thornybush Lodge is simply luxurious…
After lunch, I had some free time to explore my bungalow at Thornybush Lodge. Accommodations are simply luxurious. All come with deep soaker bathtubs, large outdoor decks, large king-size beds with high thread count linens, and a fantastic outdoor shower. The first thing I noticed missing was a television. I don't think I've ever stayed in any time of accommodation without a TV. For a split second, I wondered if I would miss it. As it turns out, I did not.
The elephant is one of Africa's "Big Five".
The nature reserve at Kruger…
Thornybush Nature Reserve covers over 14,000 hectares of the pristine African bushveld. There is a wealth of wildlife here. So, I was eager to see Africa's 'Big Five"; the elephant, the black rhinoceros, the buffalo, the lion, and the leopard.
After lunch, we went on our first drive and a brief walk around the lodge's outdoor common areas. African safari drives at Kruger National Park are only made early in the morning or late in the afternoon. I met with my group at 3:45 pm in the resort's restaurant area, where they offered us snacks and drinks before departing.
A dazzle of zebras.
I encounter a dazzle of zebras on my first African Safari drive…
The vehicle used for our safari was a large Hyundai vehicle that was entirely open to the elements. No doors, roofs, or air conditioning. Whenever I rode in this vehicle, I became part of the bush. I was introduced to our safari guide Greg and our spotter Orlando. Greg provided us with a wealth of information on every drive. At the same time, Orlando was an expert at spotting wildlife from kilometres away. Within minutes of my first drive, I was mesmerized by the wildlife in the reserve. I encountered a dazzle of zebras which slowly passed by our parked vehicle. An immense feeling of pure joy and excitement took over my entire body. It was the most peaceful experience of my life, and it was only day one of my safaris.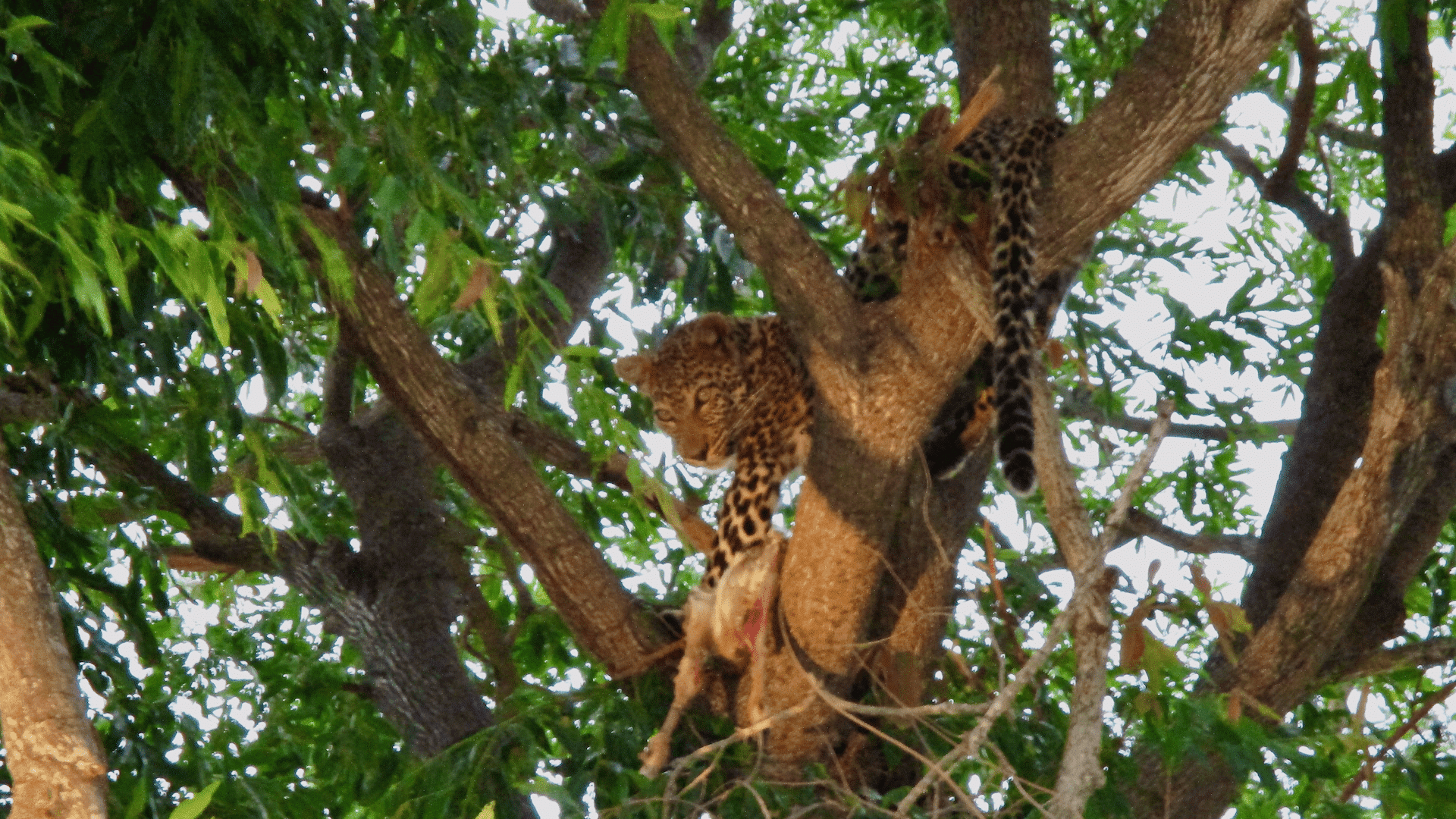 The leopard – one of Africa's "Big Five".
At peace with myself in this place…
As the days passed, I got used to the safari routine. A wake-up call at 5 am and departure at 5:45 am. Return for breakfast at 9:00 am, then lunch at 1:30 pm, followed by an afternoon drive at 3:45 pm. Dinner was at 7:30 pm, and I was in bed by 10:00 pm.
By day two, I was ultimately at peace and at a place I'd never been to in my life. I felt a tremendous amount of joy, and I was so relaxed I forgot about the outside world entirely. I didn't care that there was no television or email. If the house burnt down at home, well, there's insurance for that. Nothing could take me out of this feeling of delight with nature. This was a fresh and pure feeling of satisfaction that I'd never felt before. A sense of overwhelming pleasure and being in synch with the wildlife.
---
Related reading, 3 Exotic Destinations Better Booked Through a Travel Agent.
---
The staff caters to your every need…
I can't begin to say enough about the staff at Thornybush. Certainly, they cater to your every need and give you the time to do whatever suits your personality. If you didn't care for something on the menu, they made something else. I never once saw a maid, so I don't know who was coming into my bungalow between meals and making up my room a refreshing my toiletries.
Greg, our African safari guide offers us afternoon refreshments.
My fondest memories…
Some of my fondest memories are the breathtaking wildlife I saw in South Africa. And, the meals and social activities that were arranged for us. We took a 15-minute break and stopped for coffee, tea, and continental breakfast items every morning. In the afternoon, we stopped for 15 minutes to enjoy an excellent glass of South African wine while taking in nature's beauty.
My time at Kruger National Park passed quickly, and before I knew it, I was off to the airport for my flight to Cape Town. I left Kruger with the same warm feeling of joy and relaxation I had when I arrived. That feeling cannot be adequately described. One has to go there personally to experience it. Indeed, It's a feeling that stayed with me months after my return. A feeling that I will never forget. Indeed, there is something about the air in sub-Saharan Africa. ⬛
---
Read more from this travel blogger: My First Alaska Cruise.
---
---
There's Something About the Air – How My African Safari Changed My Life.
Photo credit: Robert Townshend. President, Total Advantage Travel & Tours, Inc.
Total Advantage Travel & Tours is a full-service travel agency. We work with the leading African safari companies to offer you the best African wildlife tours. If you have any questions about African safari travel and lodges please contact us.