Infant Travel / Tear-Free Travel
Tear-Free Travel – 5 Tips for Parents Flying with an Infant
You cannot deny that modern flight is fantastic. Your family can wake up in Toronto or Thunder Bay and be swimming in the Caribbean by the afternoon. While that sounds easy enough, parents of an infant may find hours in an airplane an intimidating challenge to their sanity. Regardless if this is your baby's first flight or fifth, here are five tips for a better infant travel experience.
1. Plan Your Flight Time
While flying is not a regular part of your child's day, sticking as close as possible to their usual routine can have a massive impact on their stress levels during flight. If your trip is short – under two hours – try to get an early ticket. Your infant will be more focused on their morning meal than the roaring engines. For longer travel times, look for tickets with a layover of an hour or more. That will give you time to change their clothes, and dirty diapers, and let them stretch their arms and legs. Unless the layover is a few hours or longer, avoid them during nap time; instead, let the baby sleep on the plane.
2. Skip the Seat
While you can buy a compliant car seat, good luck keeping your child comfortable for any length of time. Hold your newborn in your arms during flight, including takeoff and landing. You can save some money too, as most airlines don't require you to purchase a seat for children under 2 years of age if they sit on your lap. For first-time flyers, they'll likely want the comfort of a parent once the engines turn on, which leads us to tip No. 3.
---
Learn more: Getting a Travel Agent to Book My Trip
---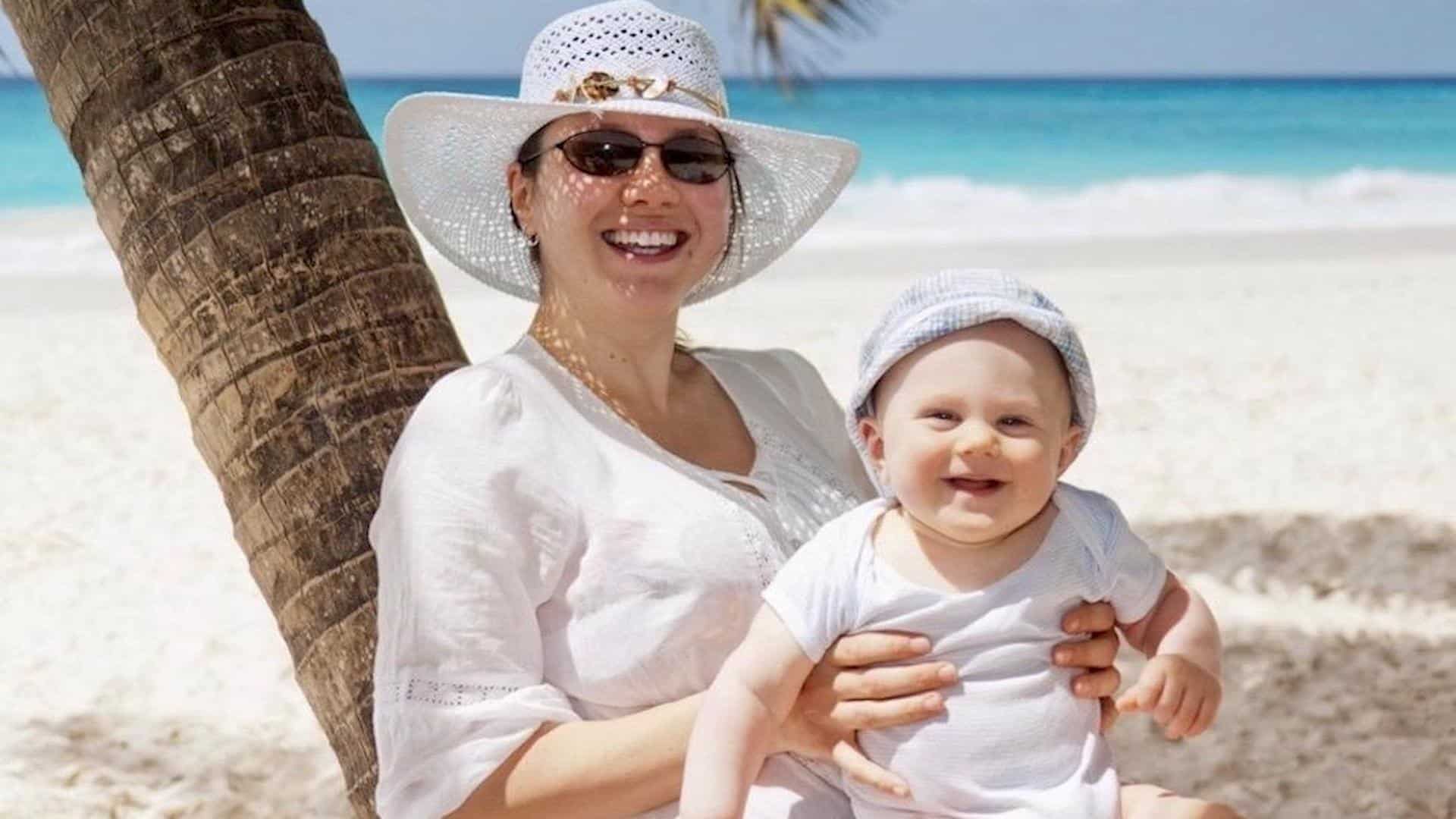 3. Keep Food at Hand
As most infants will still be using a bottle, make sure to keep one on hand during takeoff and landing. Remember that the TSA's 3.4-ounce (100 ml) rule about liquids doesn't apply to breast milk, and airline attendants will supply you with as much water as needed for powdered formula. While drinking from a bottle, your little one won't feel the impact of altitude pressurization as much. For longer flights,  make sure to bring some dry snacks to help keep them occupied and satiated.
Baby wipes are perfect for cleaning sticky hands and tray tables.
---
Learn more: Family Vacations
---
4. Prepare for a Blowout
Babies are rebels. They'll refuse to wait for the seatbelt sign to turn off or the restroom to be free before relieving themselves. Make sure to bring a few changing pads, plenty of wipes, diapers, and a change of clothes for your infant.
5. Gate Check the Necessities
Lost luggage is an inconvenience, but an airline losing your car seat is a nightmare. Reduce the risk of missing what you need to leave the airport upon arrival. Most airlines allow you to check two baby-related items at the gate for free. When you arrive at your terminal, take your car seat to the gate kiosk and ask for a gate-check tag and then set your car seat outside the door to the plane as you board. Before takeoff, a luggage handler will retrieve your car seat and place it on the plane, and on arrival, they'll unload your car seat and set it back outside the door.
Keep a Level Head for a Better Infant Travel Experience
Ultimately, being patient and keeping a level head will do wonders while flying with an infant. Remember that if your baby is crying, it's doing so for a reason. Typically, they'll be looking for nourishment, a clean diaper, or comfort in a strange environment. By keeping that in mind and using these tips, you'll be able to keep your next flight free of baby-related turbulence. ⬛
---
Infant Travel / Tear-Free Travel – 5 Tips for Parents Flying with an Infant | Hero and Featured Photos: 1. Shutterstock by licence – 2. iStock by licence
Total Advantage Travel & Tours
Email: travel@totaladvantage.com
Phone: (416) 240-7700 or (800) 419-1635
Total Advantage is a full-service travel agency located in Toronto. We expertly manage and book your travel arrangements with the world's top tour operators, airlines, hotels, railways and cruise lines. Our company's commitment is to supply you with the highest level of personal service, expert advice, and the best travel values.