See Europe, Leave it to the Experts
If you enjoy meeting new people and seeing new places, then a professionally led guided tour of Europe is for you. Everything is planned for you on a guided or escorted tour, so you can sit back and relax. Guided tours alleviate the stress of organizing all of the intricate logistics of your European vacation. They handle transportation to and from your destination, as well as all points in between. If you want to see everything, a professionally guided tour is the way to go.
Hotels are carefully chosen to ensure that they are a good fit and are close to all of the sites. Furthermore, many meals are included in your tour, so you do not have to worry about finding a great restaurant.
Beauty and the Boat
Nothing beats sailing the high seas from one beautiful port to the next for vacation fun. Consider all of the incredible sights, sounds, and culinary delights available in the Mediterranean and the Aegean Sea. Life doesn't get much better. From the pristine beaches and ancient ruins of the Eastern Mediterranean to the artsy and flavorful countries of the Western Mediterranean, this region is easily one of the most diverse in the world.
Cruising is one of the best values in travel because almost everything is included in one price. It's also suitable for everyone, including couples, families, and groups of any size. Guided excursions with experts can add a nice touch to a once-in-a-lifetime adventure for a little extra. Greece, Spain, France, Italy, and Croatia appear to have been designed specifically for cruising!
---
First time Cruising? Read Travel Tips for Your First Cruise.
---
See Europe Cruising the Slow Lane
If you're looking for a way to see Europe from an entirely new perspective, a river cruise will certainly deliver. While cruising to new lands on calm waters you will explore many charming cities and towns. You'll learn about local cultures and indulge in culinary delights on board and on land.
On board your ship you'll revel in the finest accommodations and amenities that rival the finest luxury hotels. Highly skilled chefs prepare everything from regional specialties to classics from home. When it's time to disembark, most all land excursions are included.
You'll explore the castles, vineyards and whimsical towns on some of Europe's most notable rivers. They include the Danube, Rhine, Seine, Rhone, and Douro. Itineraries on these rivers range in length, but no matter which you choose, you won't be disappointed.
See Europe Ridding the Rails
See Europe by rail and combine all your must-see destinations while viewing the picturesque landscape of the regions you will travel through. From the lavender fields of rural France to the snow-tipped Swiss Alps, taking a train is a great alternative to see Europe in a stress-free way.
Travellers can choose from a variety of European rail tours that will take them to many dream locations. Make a wish in the Trevi Fountain or relax along the Amalfi Coast. A stroll along the famed Champs-Elysees. Combine these dream-list sights with Europe's sleek trains and you are in for one amazing getaway.
Europe's exemplary rail system makes train travel a very efficient transportation mode throughout the continent. Not only is it convenient for short jaunts to neighbouring cities, but it is also easy to accomplish long-distance journeys. Many trains offer overnight accommodations for those wishing to stay on board.
---
Explore England's Great West Way!
---
See Europe at Your Own Pace
Independent travel is for you if you like having a less structured schedule and lots of leisure to explore on your own. We create unique independent travel experiences only for you, removing the guesswork from vacation planning. Simply follow your customised schedule at your own leisure and take in the sights.
With a budget in mind, you provide how long you want to go, where you want to go, and the type of accommodations, and we ensure you get the trip you want. No matter what you're looking for, you can pretty much get what you want without spending countless hours planning and organizing your trip. Best of all, if you're looking to maximize your vacation dollars, independent travel is a great way!
Speak to a Travel Consultant
Speak to an expert travel consultant before planning your trip to see Europe. Get in touch! We look forward to hearing from you. ⬛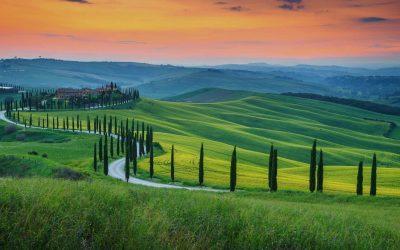 Italy is a feast for the senses, a place where masterpieces await at every corner. Find here the ultimate Italy travel dream list to get started.
read more
---
See Europe, It's Epic! Sourced from TRAVELSAVERS.
Feature Photo: 100812240 / Woman Touring Italy © Citalliance | Dreamstime.com
Total Advantage Travel & Tours, Inc, is a full-service travel agency. We know the ins and outs of the travel industry. So, we're able to provide you with a variety of vacation options. Most importantly, we help you find one that's right for you. |  TICO Licence #4374724