Learn more about Rocky Mountaineer
Luxury Rail Travel and The Canadian Rockies
This beautiful country has continuously been named a top destination to visit in the world, with Western Canada and the Canadian Rockies being at the top of bucket lists thanks to the awe-inspiring vistas showcasing nature's most beautiful aspects of sparkling lakes, snowy mountains, and local wildlife at every turn. There is no better time than now to stay local and experience the Canadian Rockies by luxury rail travel! With so much to see, take it all in at a leisurely pace travelling by Rocky Mountaineer and relaxing in the comfort of your seat as the scenery rolls by.
There are as many reasons to travel by rail as there are trees in the lush Canadian forests. Here are the top five:

Photo Credit: Rocky Mountaineer
Experience Scenery
Part of our fascination with trains is their ability to go where cars and planes cannot, allowing you to see nature's most magnificent and otherwise off-limits wonders up close. Travelling by train gives you the ability to enjoy the scenery of the curvaceous land. It allows you to notice the little things out your windows and adventure through tunnels, up mountains and through wood without leaving the ground or comfort. 
Onboard Rocky Mountaineer, you can drink in the breathtaking Canadian Rockies scenery from your seat, but also from one of the outdoor viewing platforms, which serve up fresh mountain air with the stunning vistas in the GoldLeaf Service. Or, settle inside a bi-level, glass-domed coach to take in even more immersive views. The gentle speed of around 30 mph ensures you won't miss a thing. 
---
Read More: Rocky Mountaineer Train Journey – Canada Destinations
---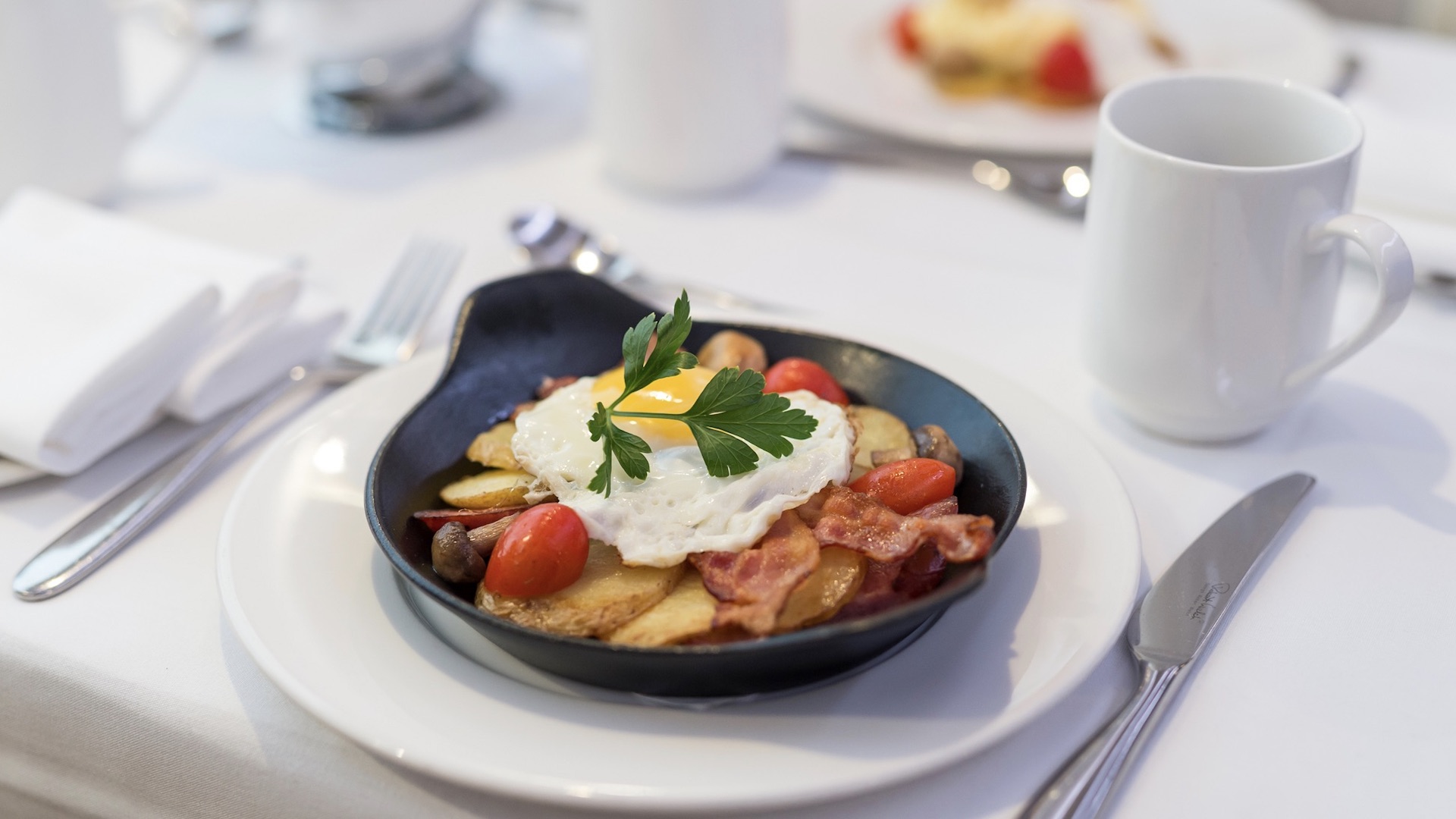 Photo Credit: Rocky Mountaineer
Taste Canada's Wilderness

 
Rocky Mountaineer is the perfect setting in which to explore local flavours while being immersed in the beauty and history of the passing locales that produced them. All the food reflects the regions and is truly Western Canadian; all locally sourced when possible, from Alberta beef to British Columbia potatoes. 
Between meals, you snack on trail mix, freshly baked cookies and gourmet cheese. Wines from British Columbia's Okanagan Valley and local craft beers and other complimentary beverages round out the authentic culinary experience. 
Connect With Your Surroundings

 
Nature isn't the only thing you'll connect with onboard Rocky Mountaineer. One aspect of rail travel that has captivated people for centuries is how a train uniquely allows you to connect deeply with travel companions as well as meet fellow travellers. One can't help but wonder who's on the train in front or behind and the stories they could tell. 
That's especially true on Rocky Mountaineer, which draws passengers from around the world and all walks of life. Maybe it's that travelling by luxury train harkens back to a friendlier time before smartphones and tablets when people would talk to pass the time or get lost in their thoughts and reconnect with themselves.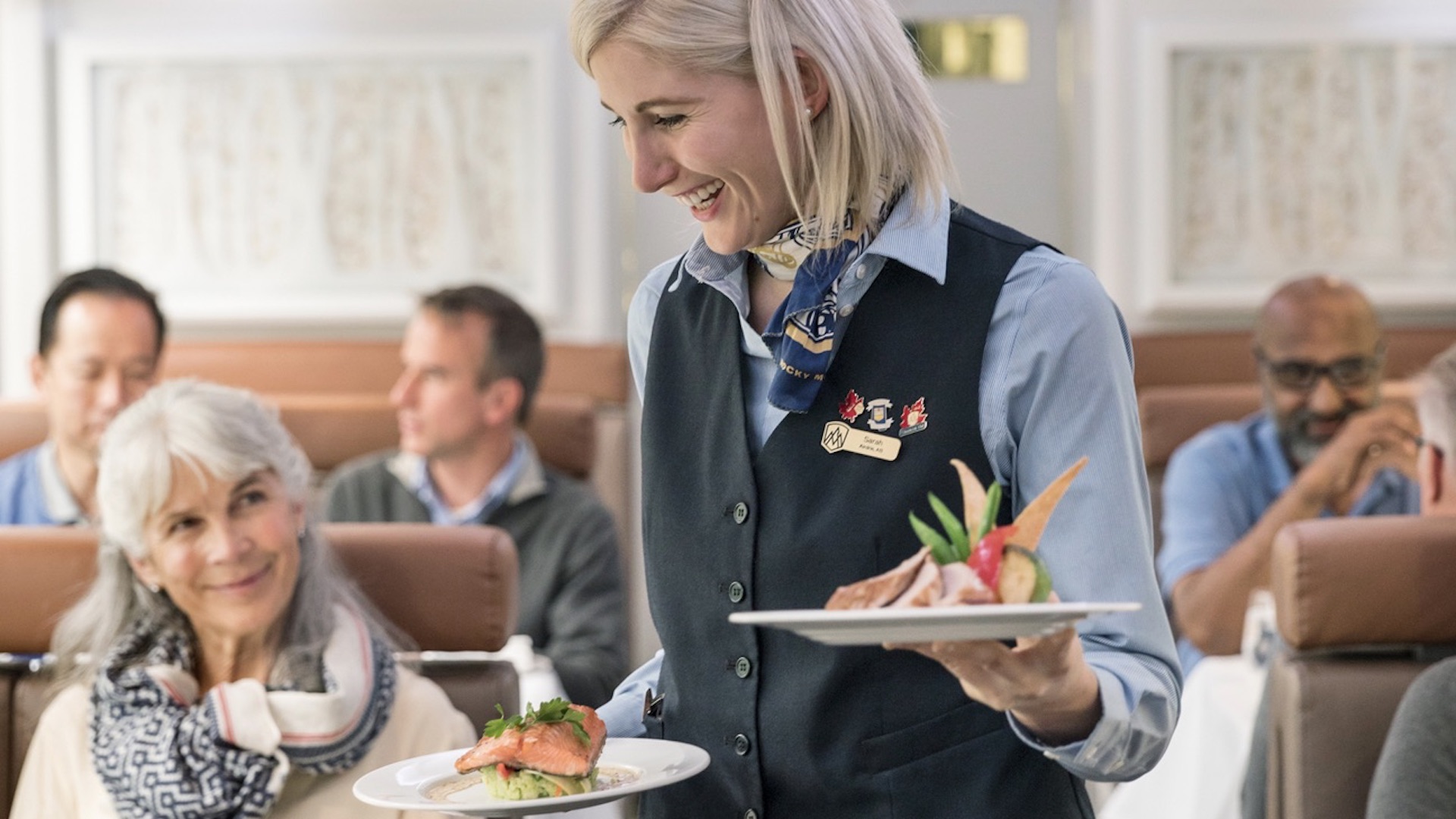 Photo Credit: Rocky Mountaineer
Get Pampered in Your Seat

 – Luxury Rail Travel
What you can expect onboard Rocky Mountaineer is to relive the days when well-heeled travellers would span the continent amid opulence and five-star service. Two premium levels of service, GoldLeaf and SilverLeaf, deliver similar luxury. Think reclining leather seats, outdoor viewing platforms, an elegant dining room separate from the seating on the glass-dome bi-level coaches for GoldLeaf passengers, and a first-class treatment that throws back to the Golden Age of travel. With Hosts who not only serve your meals and beverages but also tell engaging tales of the history happening beside your window, every moment onboard feels like service at its finest.  
Travel Through Time

 with Rocky Mountaineer
Rocky Mountaineer offers the rare opportunity to travel back in time and the only all-daylight passenger train to follow the historic route that united Western Canada with the east, passing by Canadian Pacific Railway's last spike in Craigellachie, British Columbia. The luxury line rolls through engineering marvels, such as the Spiral Tunnels, and over impressive bridges.  
But don't expect the train cars to be dusty relics; Rocky Mountaineer consists of dozens of state-of-the-art cars with new GoldLeaf and SilverLeaf coaches currently in development.  
The Magic of Rail Travel
Modern luxury rail travel isn't so much about arriving at a destination, but rather discovering a timeless experience and gaining a new perspective, and Rocky Mountaineer pairs the magic of train travel with the stunning Canadian scenery, giving you a chance to fully appreciate your surroundings.

Book with our travel agency. Our knowledgeable Travel Agents at Total Advantage Travel & Tours will help you plan the perfect Rocky Mountaineer experience. Contact us if you have any questions or need more information on rail travel and Rocky Mountaineer. ⬛
Total Advantage Travel & Tours
Email: RockyMountaineer@TotalAdvantage.com
Phone Toll Free: 1 (800) 419-1635 or Direct: 416-240-7700
---
Article Source: Rocky Mountaineer – Rail Travel: Top Five Reasons to Travel by Rail in Your Own Backyard!
Hero Photo Credit: Rocky Mountaineer
Travel Specialty: Luxury Travel