Luxury Rail Travel by Rocky Mountaineer
This is more than a luxury trip, it's a feast for the senses.
Join the Rocky Mountaineer and embark on an awe-inspiring rail journey as you travel through some of the world's most majestic scenery. As our guest you will ride along miles of train tracks through the Canadian wilderness and take in views of the pristine countryside, all from the comfort of your spacious seat. You will enjoy panoramic views from glass-domed coaches which create the ultimate sightseeing experience by day and unwind in your hotel room by night. With five-star service, delicious onboard cuisine, and iconic destinations, this is more than a luxury trip, it's a feast for the senses.
Rocky Mountaineer features impeccable service, gourmet meals, specially designed sightseeing cars to maximize the stunning views of the Canadian Rockies, and interesting narration and information throughout your journey.
Photo Credit: Rocky Mountaineer
Special Offers & Experiences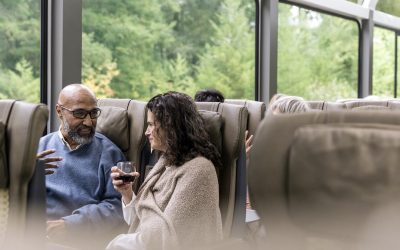 There are as many reasons to travel by rail as there are trees in the lush Canadian forests. With so much to see, take it all in at a leisurely pace travelling by Rocky Mountaineer. Learn More >
While the dramatic scenery of the Canadian Rockies is a big draw, catching a glimpse of the local wildlife that calls this area home is a highlight for many of our travellers! Learn More >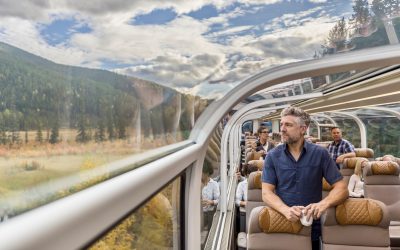 Blend breathtaking adventure with plenty of time to relax and take in the Canadian Rockies on your own. Be whisked away in luxury to beautiful Jasper, Lake Louise, and Banff. Learn More >
Explore the Canadian Rockies by Rail
Presented by Rocky Mountaineer
Exclusive: Save up to $1400 per couple!
Total Advantage Travel & Tours is pleased to share these great offers from Rocky Mountaineer. Embark on an awe-inspiring journey as you travel through Western Canada and the Canadian Rockies with Rocky Mountaineer. Onboard the train you'll dine on regionally-inspired cuisine and spend your days travelling through unimaginable landscapes. Sky-high peaks, fine dining, roaming wildlife, impeccable service – a journey through the Canadian Rocky Mountains by rail is quite simply, unforgettable.
An experience this unique deserves an equally special offer. This is your chance to see the Canadian Rocky Mountains in a completely new way – one that includes attentive service, exquisite food and wine, and the convenience of knowing that everything is taken care of from the second you step onboard. Come and enjoy one of Canada's most iconic travel experiences and witness the unparalleled beauty of the Canadian Rockies by luxury rail.
Total Advantage Travel agents are with you every step of the way, from arranging the best experience, at the best value, while staying up to date on the latest travel and safety protocols. Protect your investment by utilizing a trusted source when booking your next vacation, so you can concentrate on enjoying your trip! Contact us if you have any questions or to book. We'd love to hear from you.
EXCLUSIVE OFFER
Save $1400 per couple!
*For a limited time only, book a 2021 package and save up to $1400 per couple with their best ever offer, exclusively for Canadians!
And for a limited time, book your train journey with Enhanced Flexibility:
✓ Risk-free deposit, fully refundable, up to 30 days before train travel.
✓ Two free date changes, up to 30 days prior to travel.
✓ Move your travel to any date, up to and including the 2023 season. Carry over your promotions too should you decide to change your dates.
✓ Option to change the name(s) on your booking, up to 30 days prior to train travel. One original name must remain on the booking.
✓ Enhanced flexibility is available with all promotions, without restriction.