Of the four main islands in Hawaii, Kauai is the least developed. Much of the island is still wilderness or working farmland. Although it receives only a fraction of the visitors that Maui, Oahu and the Big Island get, it is growing more popular in recent years. If you decide to spend part or all of your Hawaiian vacation on Kauai, don't miss these five breathtaking locations:
1. Wailua Falls
There are incredible waterfalls all over Kauai, but many of them are remote and require strenuous hikes or even an air tour to view. However, Wailua Falls is both gorgeous and easy to access. It will look familiar if you ever watched Fantasy Island – it appears in the opening credits!
Wailua is a short drive from Lihue, the second largest town on Kauai. The access road ends at a parking lot located close to the overlooks. It's a great choice if you have little kids, elderly travellers, or disabled people touring with you because the access is so good. For the more adventurous, there are hiking trails to the bottom of the falls, though the going can get slippery.
One tip: schedule your visit for a time when no cruise ships are in port. The easy accessibility makes Wailua Falls a popular destination for port excursions, so it gets crowded.
---
Related travel reading: Mālama Hawaii Program: Giving Back on a Trip to Paradise
---
2. Poipu Beach
If you want sand, sun, swimming, and snorkelling, Poipu Beach is the place to find them all. Poipu is a series of three white sand, crescent-shaped beaches. There is a calm, sheltered natural wading pool area that little kids will enjoy – it's actually known as "Baby Beach"! Another of the beaches has more waves for those who want to try riding them on a surfboard or boogie board.
For wildlife lovers, Poipu is one of the best spots in Hawaii to see sea turtles up close while snorkelling in the crystal clear waters. And you may even have a sea turtle or endangered Hawaiian monk seal join you in sunbathing on the beach! Just remember not to touch or interfere with the seals, turtles and other wildlife as there can be criminal and financial penalties.
3. Waimea Canyon
Waimea Canyon is often called "The Grand Canyon of Hawaii". As one of the top attractions on the island, it is easily reachable by road, and you can take your own rental car or a tour bus. Before you even get to the park, the sightseeing on the drive is worthwhile on its own.
All visitors to Waimea Canyon can enjoy the breathtaking views from the overlooks that are located very near the parking lots. If you are more daring, there are multiple ways to experience the canyon. You can hike to the bottom of the canyon on trails that, while well-marked, are steep and best for travellers in good shape who have proper footwear. You can also opt for an air tour by helicopter or airplane, or a kayak trip on the river that flows through the bottom of the canyon.
The best recommendation for visiting Waimea Canyon: make sure you have plenty of room on your camera or phone for photos, because you will be taking a lot of them!
---
Related reading –Hawaiian Culture, The Customs and Traditions Of Hawaii.
---
4. Hanalei Bay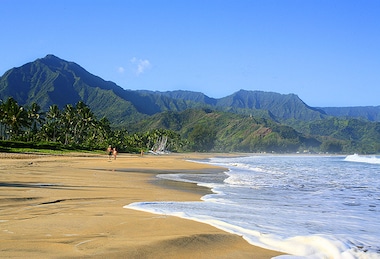 Hanalei Bay is located on the North Shore of Kauai and was the filming location for the movies South Pacific and The Descendants. It's a 2-mile stretch of beach with several parking locations. In the winter months, there is enough surf for surf boarders to find some enjoyment, but in the summer the bay is extremely calm and becomes popular for, snorkelling, and stand-up paddleboarding.
Hanalei Bay is a great place to take in one of Kauai's beautiful sunsets, especially from the Hanalei Pier that stretches out into the water. The beach has restroom facilities and lifeguards.
---
Travel Specialty: Packaged Vacations.
---
5. Na Pali Coast
The Na Pali Coast is a rugged area of the North Shore that is not reachable by vehicle. Most visitors to Kauai Hawaii opt for an air or sea tour to take in views of the incredible 4000-foot cliffs and natural scenery. With the entire area almost completely untouched by human development, it's no wonder movies like Jurassic Park and King Kong were filmed here!
Another option is to see the area from the ground by hiking the Kalalau Trail, which is an 11-mile long trail that traverses multiple valleys. While full of gorgeous views, the trail is extremely challenging and is only for very experienced hikers. Most hikers opt to visit just the first two miles of the trail between Kee Beach and Hanakapaiai Beach. Both directions have steep climbs, so even this stretch is not for the casual hiker.
Air and Sea Tours
Even Kauai natives take air and sea tours to see this remote area of their island! One recommendation is to do both – take an air tour that includes the Na Pali coastline and other remote locations on the island during one day of your visit. And a sea cruise for close-up views on another. There are tours with everything from small catamarans to large dinner cruise excursions.
Anyone visiting the Hawaiian Islands should reserve at least one day to see some of the sights of Kauai. Many who make a quick visit here as part of a larger Hawaiian tour return later to spend a vacation just on Kauai, so they can experience the island's unspoiled beauty in depth. ⬛
---
Feature Photo Source: iStock, Woman Hiking in Kauai
Total Advantage Travel & Tours – About Us
Email: travel@totaladvantage.com | Phone: (416) 240-7700 or (800) 419-1635