A Treasure Hunt for Senses
Morocco is a charming blend of rich culture, ancient history, and welcoming hospitality that appeals to all of your senses. Experience the vibrant and bustling souks, where you can find an array of exquisite spices, local textiles, and handcrafted artisanal products. Treat yourself to a delicious meal before trying your hand at haggling for the perfect souvenir or gift, and don't forget to leave some extra space in your luggage for all of your souk finds!
Destination Morocco Travel Guide
Whether you're interested in exploring the country's beautiful cities, relaxing on its stunning beaches, or hiking its rugged mountains, there's something for everyone. Here's a guide to the country's best cities, beaches, mountains, and culture.
Cities to Visit in Morocco
Morocco's cities are a great place to start. Each city has its unique charm, from the bustling markets and historic sites of Marrakesh to the UNESCO-listed medieval Medina of Fez. Chefchaouen, known as the "Blue Pearl," is a beautiful city with stunning blue-painted streets and a tranquil atmosphere. Tangier, located at the crossroads of continents, combines history and culture with coastal beauty. Lastly, Casablanca, the country's economic hub, showcases modern Morocco alongside its rich cultural heritage.
The Medina of Fez is considered one of the most extensive and best-conserved historic towns of the Arab-Muslim world.
Seaside Resorts and Beaches
Morocco's coastal destinations are also worth exploring. Agadir Beach is a popular sun-seek destination with its golden sands and temperate climate. Nearby, Taghazout attracts surfers worldwide, offering world-class waves and a laid-back atmosphere. The harbour city of Essaouira is a coastal gem with a unique blend of history, culture, and wind-swept beaches, making it a haven for windsurfing and relaxation.
The harbour city of Essaouira.
The Atlas of Morroco
The Atlas Mountains are an excellent destination for adventure and nature lovers. Hiking North Africa's highest peak, Mount Toubkal is a must-do for anyone seeking rugged terrain and breathtaking views. The "Valley of Roses" in the M'goun Mountains is another beautiful destination, with terraced fields and an annual Rose Festival. The Ourika Valley is a lush oasis away from city life with greenery, waterfalls, and traditional Berber villages. Whether you're looking to snowboard or sandboard, the Atlas Mountains offer a unique destination where you can do both within hours.
Nestled in the heart of Morocco, the Atlas Mountains stretch across North Africa, offering a captivating blend of breathtaking landscapes, vibrant cultures, and outdoor adventures that leave an indelible mark on anyone fortunate enough to explore its heights.
Moroccan Culture, Diverse and Inviting
Moroccan culture is diverse and inviting, with a unique blend of traditions that travellers can immerse themselves in. The Berbers contributed significantly to the nation's cultural mesh, in preserving ancient traditions and languages. The bustling souks and markets are a great place to experience the heart of Moroccan life, with the enticing scents of spices filling the air and artisans showcasing their intricate crafts. The labyrinthine medinas and vibrant bazaars narrate centuries of history. We hope this Destination Morroco guide inspires you to discover Morocco's best cities, beaches, mountains, and culture.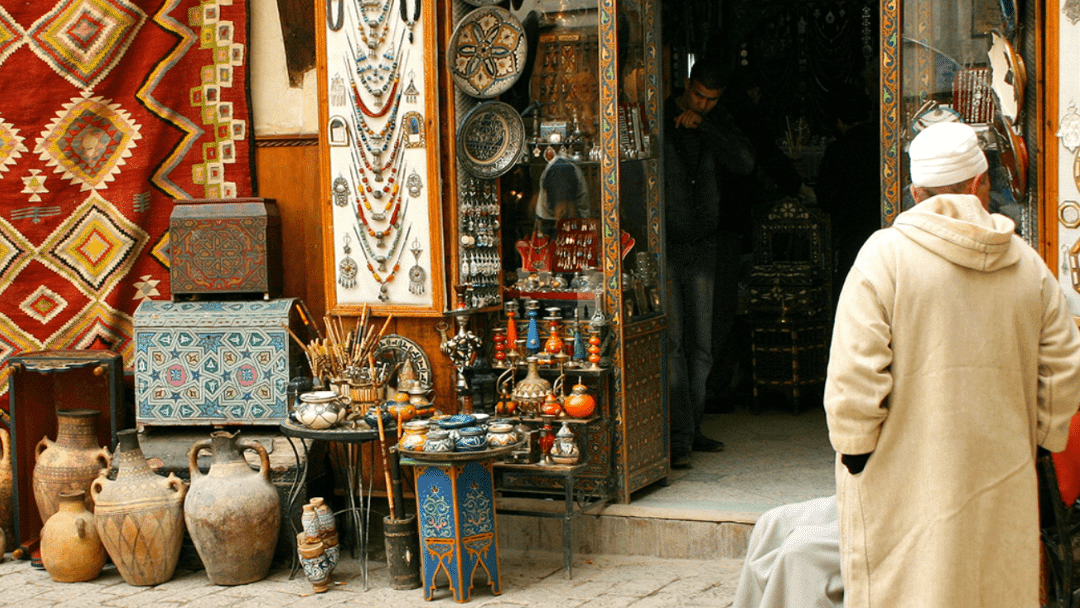 Destination Morocco: The souks of Marrakech are often a highlight for any traveller. Indeed, the bustling atmosphere, the bargains, the thrill of haggling and the assault on the senses are often a big part of the reason why people take a trip to Marrakech.
Ready to Take a Trip to Morocco?
Total Advantage can help you plan and book fantastic trips to Morocco through our preferred travel partners. Contact us to share your ideas for your trip, and let us know when you want to travel. Our expert travel agents will create a personalized itinerary, which you can amend until it's exactly how you want it before booking. 🟥
---
Destination Morocco Travel Guide – Photos provided by Visit Morocco.