Welcome to England's Great West Way
Follow the paths taken by generations of travellers and discover an essential strand of England. Based on one of the first Great Roads commissioned by the Kings of England, the Great West Way winds its way through lush green landscapes filled with the world-famous and the yet-to-be-discovered. Touch Royal Windsor, Roman Bath and timeless Stonehenge, and immerse yourself in English village life and Bristol's city energy.
On the Great West Way, extraordinary history rubs shoulders with everyday life. Traditional pubs and inns with World Heritage Sites on their doorsteps, serving craft ales and local farm food. Churches which have watched over their parishes for centuries. Independent shops and galleries filled with contemporary designs and creations.
You don't have to travel far to explore further and delve deeper into England. The Great West Way links London with Bristol through 500 miles of navigable routes, full of twists and turns and discoveries. Explore by guided tour, by road, by railway or by waterway. Slow right down, base yourself along the route, walk it or cycle it. Welcome to real England. It's England undiluted. It's England concentrated.
At the western end of the Great West Way, you'll find Bristol and Bath. This a blessing for the urban adventurer since these 2 cities are so close together geographically – just 15 minutes by train – yet miles apart in character.
The Cotswolds offers the sort of chocolate box views that many imagine when they think of England. Its honey-coloured limestone villages and rolling farmland, dotted with curly-haired Cotswold sheep, make up the largest Area of Outstanding Natural Beauty in the country.
Between London and Bristol & Bath, and venturing up into the Cotswolds, you'll find the county of Wiltshire. Patchwork fields, chalk plateaus and irresistibly pretty villages. It's not all rural heartland, of course, there are market towns and a city to explore too!
Considering its proximity to London, this home county is big on old English charm. With its leafy villages, wild pastures and horse-drawn canal boats, you can hop off the train and feel as though you've travelled back in time a few hundred years.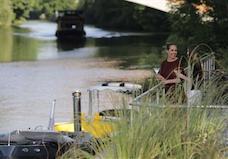 A boat ride on the River Thames reveals a real spectacle of sights, winding out of London via some of the capital's most magnificent attractions – the Houses of Parliament, Hampton Court Palace and Kew Gardens. But as you venture further west, new spectacles unfold.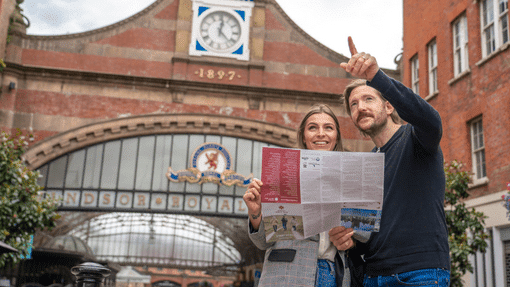 A concentrated essence of England
England's Great West Way is so much more than a collection of different places to visit. It's a connecting thread, bringing together not only the world-famous English sites, attractions and landscapes but also the places and people that makeup everyday England. Woven together, they form an important strand of England's story. In this way, the route delivers a concentrated essence of England and Englishness.
What is it?
The Great West Way links London and Bristol. It follows a 125-mile route based on one of the first Great Roads commissioned by the Kings of England.
Who is it for?
The Great West Way is for curious travellers searching for the real England. Those who want to explore further, delve deeper and uncover the essence of England.
What is it like?
Along the Way, everyday England rubs shoulders with world-famous heritage. 
Why should I choose the Great West Way?
The Great West Way offers an extraordinary variety of English experiences not found in any other part of England.
This map will help you on your way. It highlights some of the things you can experience. Click on the image to download the map.
START HERE – England's Great West Way
It's time to explore England. To uncover tales of the past. And experience all that's to offer today. Welcome to a journey through time. And an adventure across England. The Great West Way is based on one of the first great roads, commissioned by the Kings of England. As you travel between London and Bristol, you'll uncover the very soul of England.
The Great West Way brings you to world-famous sites such as Stonehenge, Roman Bath with its double World Heritage status and Windsor Castle, but the real joy is in discovering somewhere different, a real slice of England that you can take back home with you – as memories, as photographs, or even as a bottle of craft ale or piece of local art.
Thanks to Great Western Railway (GWR) choose to explore by train or bus using the Great West Way Discoverer pass. Or slow right down to the pace of two feet or two bike wheels or a boat, base yourself in one place for a while and find your own story on the Great West Way.
Looking for exceptional deals on England trips and vacation packages? Save when you bundle your flight and hotel. Book a Hotel + Flight or Car together to save more. Contact us to get a trip quote!