BnB Colombia Tours
Create Your Perfect Colombian Experience
BnB Colombia Tours is our preferred travel partner for unique escorted tours and local experiences in Colombia.
Plan Your Tour
The Best Tours to Temp Any Traveller To Colombia
BnB Colombia Tours' goal is to present to the world the beauty, nature, culture, history, and gastronomy of the wonderful country of Colombia.
They have created some of the best tour packages to suit almost anyone wanting to travel to Colombia. Their tours include the Amazon, Caribbean, Coffee Zone, the Andes, Medellín, Whales, Turtles, Jungles, Beaches, and more.
They also know that our travellers do not like the same box of mixed chocolates. So they are always happy to make changes to any tour package to help create your perfect Colombian Experience.
BnB Colombia Tours has guides and transport operators in every part of the beautiful country of Colombia, and can provide you with your dream tour of that 'simply fantastico' country!
Our strong relationship and trust in this local company enable our expert travel consultants to plan your Colombia trip of a lifetime from anywhere in Canada or the United States.
Meet Bruce McLean and his team in Colombia.
With over 1,900 avian species – more than any other country in the world – Colombia is a birder's paradise waiting to be discovered. – National Audubon Society.
Any Questions?
Like something you see and need more information? Contact Total Advantage Travel today and we can answer any travel-related questions.
Featured BnB Colombia Tours' Experiences
Coming Soon. This webpage is currently being updated.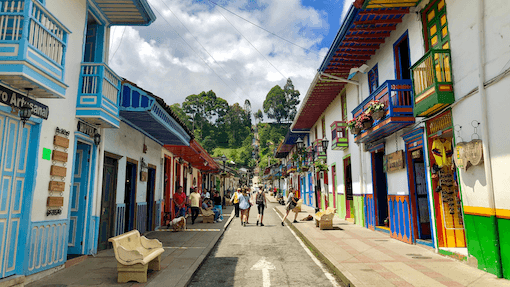 Join other travellers on an over 50 years of age small group shared tour of Colombia in 2023. Enjoying the company of like-minded travellers, exploring this amazing country.