Joseph Carrubba, Travel Creator
Direct: 519-648-2682
Email: joseph@totaladvantage.com
w/Total Advantage Travel & Tours
25-2001 Lawrence Ave Toronto
Toll Free 1 800 419-1635
TICO #4374724
Languages: English, Italian
LGBTQ2S+ Travel & Vacations
I am a personal Concierge for your travel needs and it is a service that costs you nothing and in fact, helps remove profit from the big business engine. You don't have to spend hours researching information when I can filter down what you are looking for, so your time can be better spent reviewing pertinent information.
Let me do the legwork for you. You might search for 1-2 personal vacations annually and I do it 20 times a day and manage not just families, singles, and couples, but very large groups of people as well as Destination Wedding groups and the LGBTQ2S+ community. I have extensive experience to guide you, and nothing makes me happier than educating people on how to travel effectively so that you get the most value from what you are spending.
I help you free up your time so you can spend it on things that you're passionate about because that's what I am passionate about. LGBTQ2S+ vacations are the pillar of my travel business but my door is open to all who love travel, and who are looking for new adventures and seeking exploration. Looking forward to hearing from you.
Joseph Carrubba, Travel Creator
---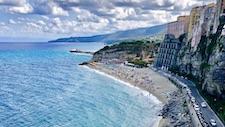 Featured Photo by Travel Creator, Joseph Carrubba – Tropea, Calabria, Italy, in all its clifftop glory. Tropea is one of the most spectacular seaside towns in the Mediterranean – yet it's almost undiscovered by tourists outside Europe. Italian tourists, however, have been in the loop for quite some time. Tropea is a summer destination. July and August are extremely crowded, but May, early June, late September, and October are wonderful times to visit with great weather and no summer crowds.