My Middle East Travel Sabbatical by Nurse Ron | Reading Time: 8 Minutes
Is COVID over? Nope. Are international restrictions over? Getting there. Am I ready to travel? Yes! So my last major trip was in February/March 2020. I returned to Canada from a G Adventures tour of Vietnam with a layover in Singapore. There was news of COVID-19 when I left for that adventure, but Canada had just a handful of cases before my departure. The Wuhan Virus, as it was known back then, started to explode while I was abroad. I returned to Canada as the government closed our borders and implemented a non-essential travel ban.
An overworked ICU nurse that desperately needed a travelling sabbatical
The next few months were a blur. As an ICU nurse at a large downtown Toronto hospital, we were in the thick of COVID illness, prevention, death, and treatment. I was overworked, wearing full PPE, learning about the virus and how to treat it. Nursing Covid positive patients and afraid to bring the illness home to loved ones. I isolated myself outside my essential workplace, living through lockdowns, social distancing, and masking. It was an all-around scary time.
Two years later, with the implementation of vaccines and the efficacy of protocols to reduce the virus's spread, I was raring to get out and explore the world again. Well before COVID-19 was in our lexicon, I signed up for a Pre Paid Leave of Absence from my work as an ICU Nurse. Essentially, I put 20% of my salary away for four years, get the fifth year off, and collect those saved funds as salary for the year I intend to not work.
The Dubai skyline.
My intention was to travel despite the challenges of planning a trip abroad
My intention for this year is to travel as much as I can. I was to start my year off in March 2021, but with the pandemic in full swing and staffing shortages so pronounced, I could not commence my year off until March 2022. With most of the world closed off to non-essential travel due to COVID until recently, this delayed start to my travels was welcomed.
Many challenges were still present in planning trips abroad. What countries had vaccine and testing requirements to visit? Was it 72 hours before departure or before arrival to be considered COVID-negative? Were these requirements changing based on case numbers? What were Canada's re-entry requirements, and how does one fill out the ArriveCAN app? What insurance coverage would be required? Did I have to have a swab test or isolate on arrival?
With the help of my travel agent, we planned my sabbatical travel experience
One needed to navigate more rules and regulations than just passport/visa requirements or preferred seat selection to plan a trip. The task was a little daunting as I tend to overthink things and often look at worse-case scenarios. But, with the help of Charlene, my travel agent at Total Advantage Travel, I decided I would plan an extended holiday in this new world. Planning nowadays requires a backup plan with trip cancellation, trip refund, added insurance, and the awareness that the trip could be postponed or cancelled altogether.
Where to go after a two-year International travel hiatus? I wanted someplace unique, adventurous, with warm weather, decent COVID precautions, someplace within my budget, and a relatively stable part of the world.
Middle East travel, although sometimes volatile, really appealed to me
The Middle East, although sometimes volatile, ticked off all of my travel boxes. So spending 5 weeks in Dubai, Jordan, and Israel was part of my plan. I had been to Dubai almost 12 years before, but the ever-changing face of Dubai made me think the whole city and its skyline would be like visiting a new country. And it certainly was! Recent developments, unique attractions, and the presence of the delayed 2020 World Expo made it a fantastic start to a much-needed adventure holiday. The weather was hot, the humidity was ever present, and the city was packed with locals and tourists. There was a lot to see and do.
I describe Dubai as Vegas with less alcohol
I stayed beside Dubai Creek in Al Seef at the Curio by Hilton. The area is themed like what old Dubai looked and felt like just a few decades ago before it boomed with oil, tourism, and finance. Dubai was a backwater port with little or no development before the mid-'60s, yes, 1960s! Oh, the changes it has seen. I describe Dubai as Vegas with a great beach and less alcohol. It is easy to forget you are in a Muslim country with all the flashy cars, Cirque-style shows, tourist attractions, tall buildings, and Western amenities. They even have Tim Horton's all over the place.
Al Bastakiya Quarter in Bur Dubai (Old Town), near the Dubai Creek. – My Middle East Travel Sabbatical.
Drinking in public is illegal, so remember to plan ahead
Alcohol is only served in larger hotels, restaurants, and bars catering to Western tourists. Drinking in public is illegal, even on the beach. If a drink with dinner or a Pina Colada at the beach is your thing, remember to plan ahead where you will be going. I experienced many dinners without a glass of wine with my meal or an aperitif beforehand.
The call to prayer (adhan)
Amongst the world's tallest skyscrapers are the minarets of the Mosques, which announce the prayer calls (adhan) for the Muslims to come to pray. What a sight and sound to behold. It is eerie and daunting at first but then quite calming and serene. I realized it is similar to the church bells in our home neighbourhoods.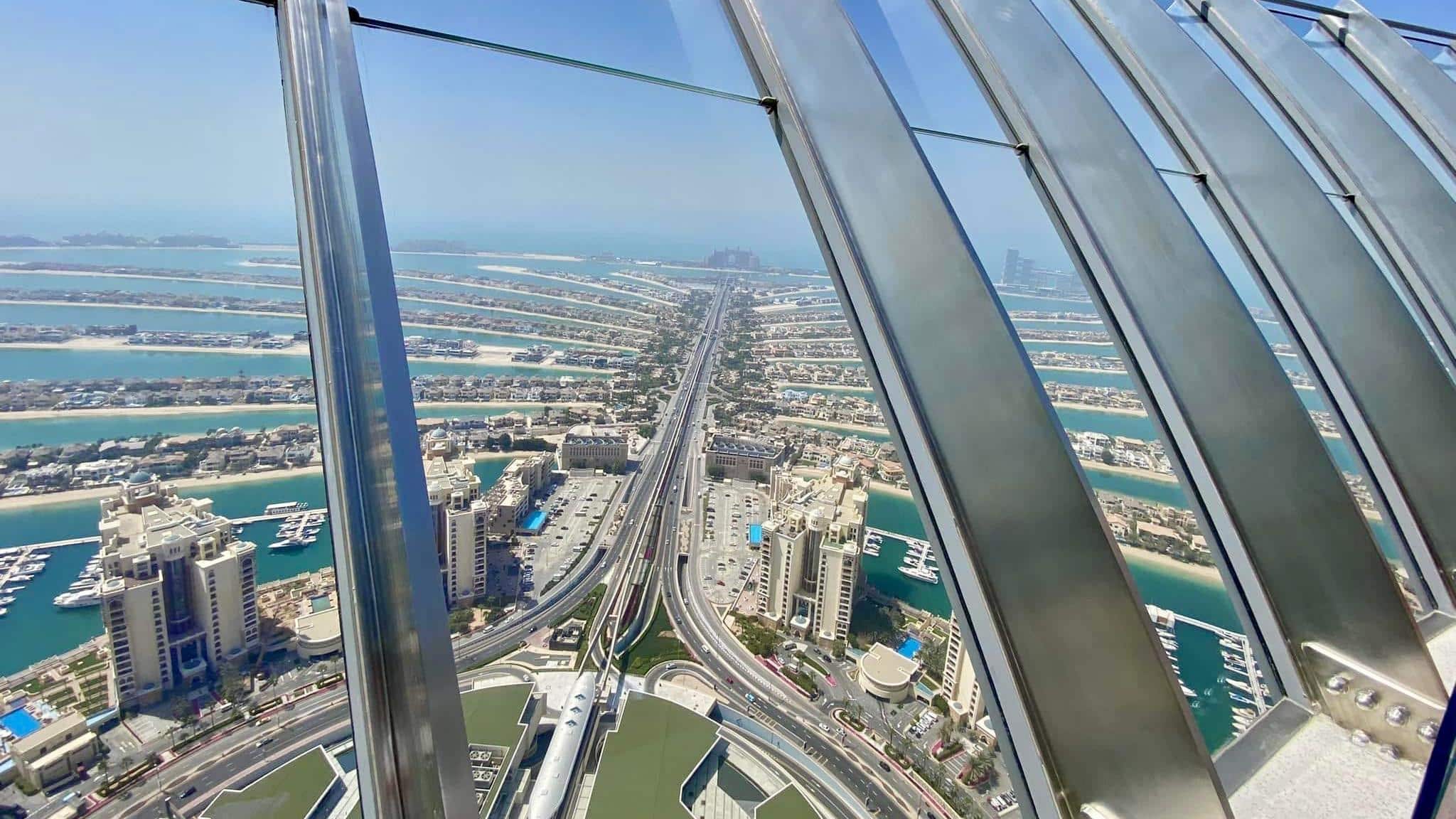 The view at the Palm Jumeirah – Dubai – Middle East Travel.
Dubai has the best superlatives
Dubai has the best superlatives when describing what the city offers. The tallest building (Burj Khalifa), the only 7-star hotel (Burj Al Arab), the deepest pool (Deep Dive Dubai), the largest fountain (Palm Fountain), you name it. Dubai has the biggest or best of it! In Dubai, one can lounge on the beautiful sand beaches, swim in the Persian Gulf, and then head indoors to go skiing on one of the world's most giant indoor ski hills. I skied there on my previous visit. You must go on two ski lifts to get to the top of the hill. Surreal, to say the least. After this, the malls and shopping are out of this world. Just walking around the malls gets your steps in and allows you to sample wares from around the world.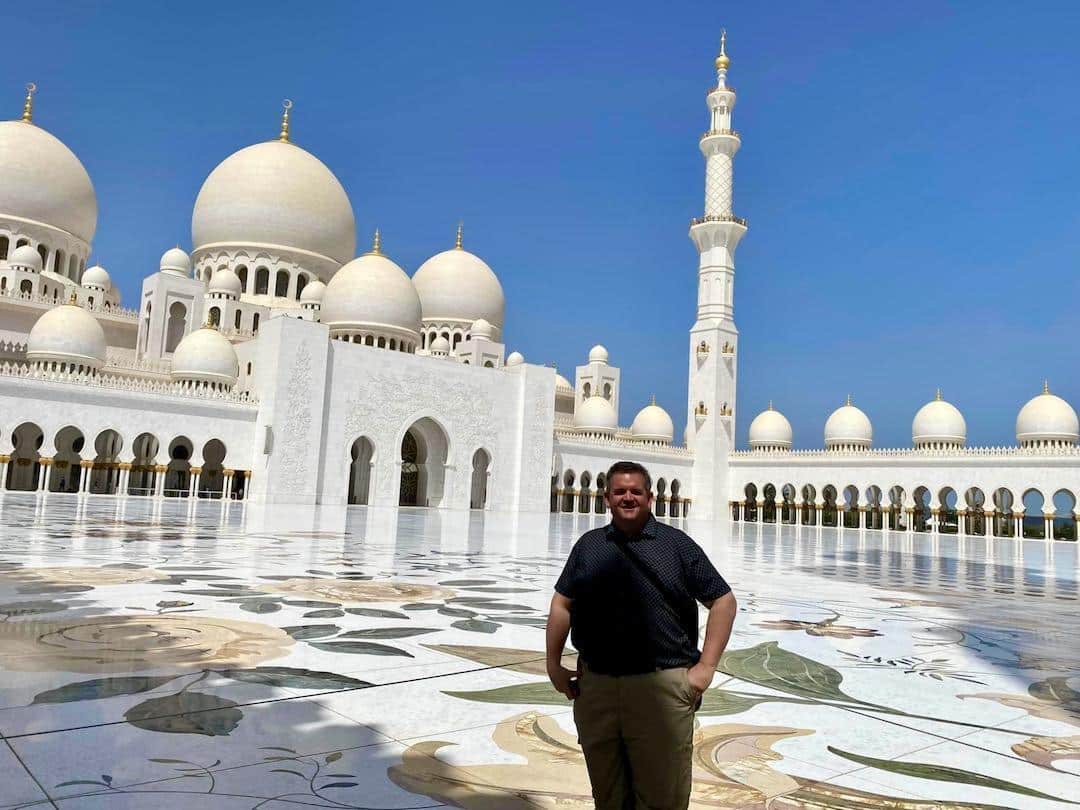 Ron at the Sheikh Zayed Grand Mosque, Abu Dhabi – My Middle East Travel Sabbatical.
A day trip to Abu Dhabi
While in Dubai, I took a day trip to nearby Abu Dhabi. Dubai and Abu Dhabi make up the country of the United Arab Emirates, along with 5 other state-like entities. Abu Dhabi has many attractions, including the amusement park called Ferrari World and the Louvre Museum, yes, that Louvre, with exhibits from the collections in Paris. The piece de resistance, though, is the Sheik Zayed Grand Mosque which is so large and well designed and appointed. Guided tours are easily arranged. Just remember proper etiquette and attire are required when visiting this practicing mosque.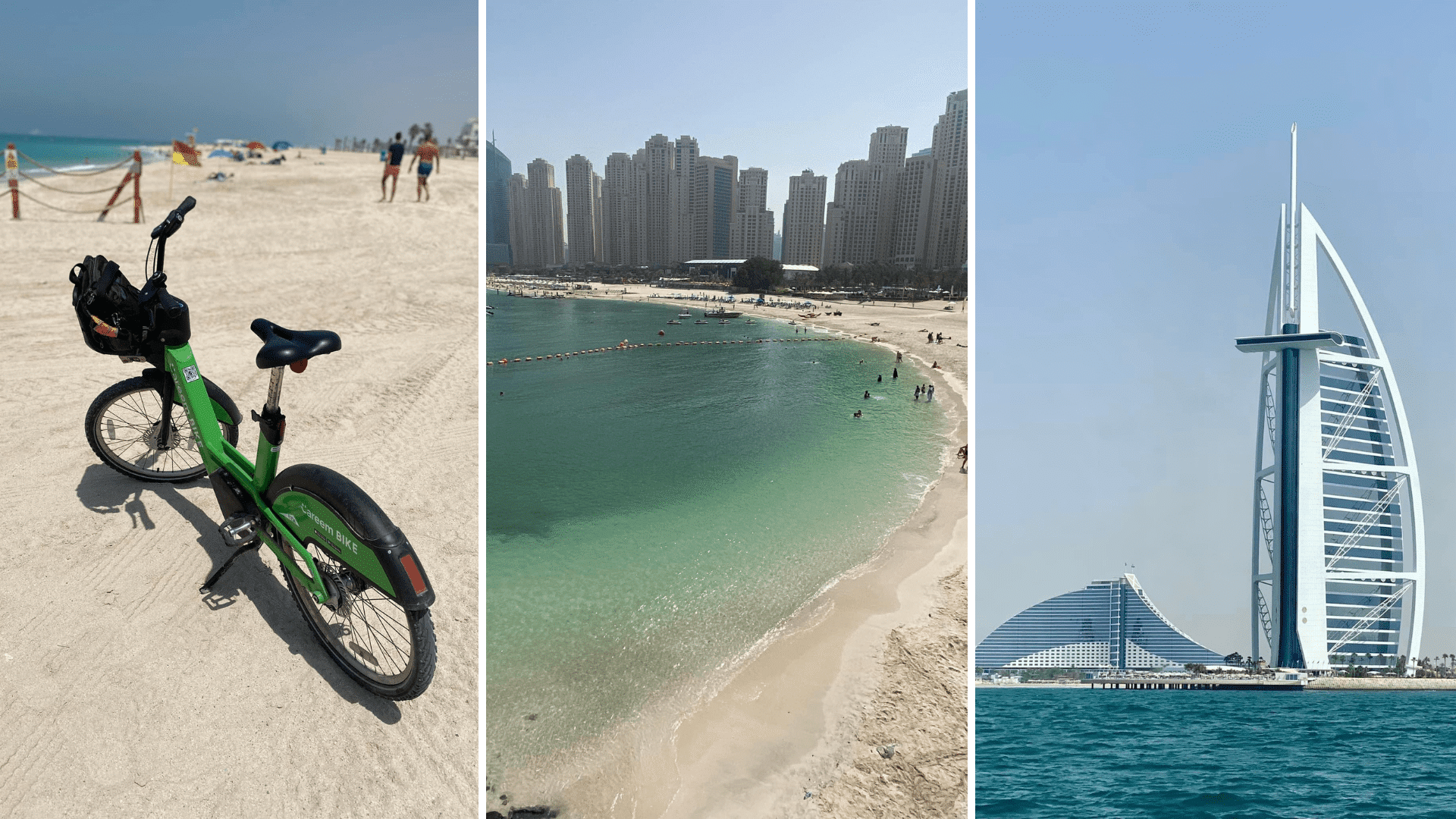 Getting around Dubai
My favourite addition to the Dubai landscape was the public bike rentals and bike trails connecting the city from the Marina to the Jumeriah beaches to Dubai Canal and the Burj Khalifa. Getting around Dubai is as simple as they have a Metro, which covers the length of the city, as well as local buses, ferries, and, best of all, Uber. Our app works there for rideshare options. There is also a company called Kareem which is owned by Uber and offers the same services, just by a different name.
First entering Dubai
Entering Dubai was relatively easy. COVID-19 testing was not required for travellers from Canada. Still, because my flight transited through Jordan, I needed a COVID swab on arrival. Results were back in a few hours; fortunately, I was COVID-negative, so no isolation was required. Air Canada and Emirates fly direct to Dubai from Toronto. Still, I flew out of Montreal via Jordan, the next leg of my Middle East travel sabbatical.
TO BE CONTINUED
---
My Middle East Travel Sabbatical by Nurse Ron | Photos by Nurse Ron.
The best time to take a travelling sabbatical is when you are going to be free to make the most of it. Need help planning? Contact Total Advantage Travel & Tours for travel inspiration, expert travel services, and to Get a Trip Quote!