An ancient land rich in tradition. Step into a living history museum and discover some of the most celebrated treasures in the world.
Discover the ancient world of Israel, where legendary stories of humanity's collective history blend with the thriving dynamic of modern life. Your adventure starts in Tel Aviv, the chic centre for spirited luxury and captivating nightlife. Enjoy the local flavour during a home-hosted lunch in a Druze community. Step into the past and enjoy a cruise on the Sea of Galilee. Visit UNESCO World Heritage sites, including Jerusalem's Old City. Gain a new perspective as you ascend the ancient walls of Masada by cable car. Float in the tranquil waters of the Dead Sea. From historic Nazareth to the sophisticated, bustling hub of Tel Aviv, experience the all-encompassing essence of Israel.
This􏰅 tour 􏰂is co-hosted by Robert Townshend. Robert is the President of Total Advantage Travel & Tours, Inc., and 􏰂a Deacon in 􏰂the Anglican Church of Canada at St. Peter's Erindale.􏰂
Tel Aviv, Jaffa, Carmel Market Food Tour, Caesarea, Druze Lunch, Winery Visit, Sea of Galilee, Nazareth, Mount of Olives, Jerusalem, Home-Hosted Dinner, The Western Wall, Yad Vashem, Holocaust Survivor Discussion, Masada, and the Dead Sea.
Connect with the Orthodox Jewish community at a home-hosted dinner in Jerusalem.
Engage in a conversation with a Holocaust survivor at Yad Vashem.
Enjoy two nights in Tel Aviv, Israel's dynamic and thriving strip of urban life.
Day 1: International overnight flight to Tel Aviv, Israel
Day 2 & 3: Isrotel Sea Tower Tel Aviv, Tel Aviv
Days 4 & 5: Leonardo Plaza Hotel Tiberias, Tiberias
Days 6 & 9: Dan Panorama Jerusalem, Jerusalem
Day 10: Transfer to Tel Aviv and flight home
*On some dates, alternate hotels may be used.
Have Questions? Contact Robert Townshend at + 1 (416) 240-7700 or toll-free at 1-800-419-1635 or email Robert@TotalAdvantage.com.
8 Breakfasts (B)
3 Lunches (L) – Includes a home-hosted lunch*
5 Dinners (D) – Includes a tour participant appreciation dinner, courtesy of Robert Townshend
*See the trip itinerary and terms below.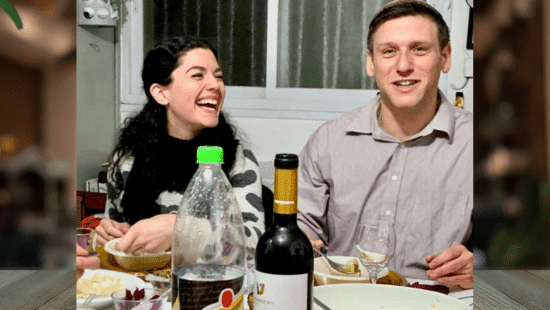 Book Now & Save!**
$5749 CAD per person with roundtrip flight, fees and taxes included. Based on double occupancy. Please see our tour rates below for single and triple occupancy. Book by July 05, 2023, to guarantee this rate by saving $150** off the regular tour rate of $5,899.
**See the terms and Iconic Israel tour pricing below.
Iconic Israel Tour Itinerary
Day 1 - Overnight Flight to Tel Aviv, Israel ✈
Day 2 - Tel Aviv, Israel - Land Tour Begins
Welcome to Tel Aviv, a thriving, reinvented city on the Mediterranean coast. Feel the bustling energy humming around you and jump into this epicentre of Israeli chic. The city cultivates an ever-evolving restaurant scene paired with sparkling coastlines, resulting in an irresistible hub of urban sophistication. Tel Aviv is a non-stop celebration of innovation and excitement. Join us and your fellow travellers for a welcome reception at your hotel tonight.
Day 3 - Tel Aviv
This morning, explore Tel Aviv's "White City" (UNESCO), highlighting famous Bauhaus architecture. Then it's on to Carmel Market for a walking food tour.* Sample fresh hummus and savoury street foods as you connect with the locals, getting a taste of everyday life. This afternoon, walk the narrow stone streets of Jaffa, an ancient port city. Enjoy an evening at leisure to enjoy the sunset along Tel Aviv's rejuvenated waterfront promenade or delve into the city's captivating nightlife of rooftop lounges, sophisticated cocktail bars, and more. You are invited to an Appreciation Dinner hosted by Deacon Robert tonight. (B, L, D)
Day 4 - Tel Aviv - Caesarea - Winery Visit - Sea of Galilee - Tiberias
Follow the coast to the ruins of Caesarea, built by Herod the Great in the 1st century BC. Pause for a visit to a winery set among the hills of Upper Galilee. Enjoy lunch and taste the wines produced according to the Kosher tradition. This evening, we set sail on the tranquil waters of the Sea of Galilee aboard a replica boat reminiscent of the 1st century. Your day ends in Tiberias, your home for the next two nights. (B, L, D)
Day 5 - Tiberias - Magdala - Druze Lunch - Tiberias
Begin your day by exploring the excavated ruins of Magdala, regarded as Mary Magdalene's hometown, and find an ancient city of stone carvings and excavated temples. Journey to Daliyat al-Karmel and chat with locals over a plate of enticing Arabic food as you bond with members of the Druze community at a home-hosted lunch. (B, L, D)
Day 6 - Tiberias - Nazareth - Mount of Olives - Jerusalem
Depart Tiberias for the historic city of Nazareth. Visit the Church of the Annunciation and Mary's Well. Continue south to the Mount of Olives and marvel at the all-encompassing view of Jerusalem, including the shining Dome of the Rock. Housing layers of history and heritage allow the city's resilient spirit to capture your senses. Get to know a local family tonight as you enjoy a traditional meal** in their home. (B, D)
Day 7 - Jerusalem
Walk in the footsteps of millions before you and discover the old walled city of Jerusalem (UNESCO). On this walking tour, see the Western (Wailing) Wall and the storied path of the Stations of the Cross. Immerse yourself in the everyday culture of Jerusalem's Shuk (the Bazaars of the Old City), with each narrow street dedicated to different trades passed down through generations. As you explore, breathe in the smell of freshly baked bread, roasting sesame seeds, and savoury spices. The remainder of the day is yours. You may join an optional tour of Jerusalem by night, which includes a sound and light show.
(B, D)
Day 8 - Jerusalem
Begin your day with a poignant visit to Yad Vashem, the World Holocaust Remembrance Centre. You won't just tour this influential museum, but you'll get to have an open conversation with a Holocaust survivor. The rest of your day is leisurely exploring more of Jerusalem. You may visit the Israel Museum to view the Dead Sea scrolls or consider an optional trip to the city of Bethlehem, spread along the Judean Hills. Visit the Church of the Nativity – the birthplace of Jesus and the first Church ever built. (B)
Day 9 - Jerusalem - Masada - Dead Sea - Jerusalem
Travel to the desert fortress of Masada (UNESCO), situated on a cliff next to the Dead Sea. Ascend the ancient walls of Masada by cable car and explore Herod's Palaces, the Roman Camp, and the Synagogue. Float in the tranquil healing waters of the Dead Sea, experiencing its unique natural buoyancy. This evening, toast the end of an incredible journey during a farewell dinner at a local restaurant featuring ingredients inspired by the Bible. (B, D)
Day 10 - Jerusalem - Tour Ends
Your tour comes to a close. (B) Transfer to the airport in Tel Aviv for your flight.
Personalize your tour by adding an optional activity. Our recommended options have been carefully chosen to help enhance your individual experience.
Jerusalem by Night with Tower of David - $99 CAD
Afternoon in Bethlehem - $78 CAD
Jerusalem's Old City: A Confluence of Faiths
Enter through the sacred gates to a labyrinth of winding cobblestone streets, densely packed inside an area of less than a square mile. Despite its diminutive size, the walled Old City symbolizes Judaism, Christianity, and Islam. You will journey to venerable locations that have existed for 30 centuries. Stroll the Via Dolorosa, or the Way of the Cross, following in the footsteps of Jesus Christ's crucifixion, burial, and resurrection. Experience the solemnity of the Western Wall, the only surviving remnant of Judaism's most sacred shrine, the Temple Mount. Gaze in awe at the Dome of the Rock, which Muslims believe is the site of the Prophet Muhammad's ascension to Heaven.
4 Days 3-Night Jordan: Petra & The Dead Sea
EXTEND YOUR HOLIDAY WITH
An Optional Post-Tour Extension to Jordan.
Iconic Israel Tour Pricing
Book by July 05, 2023, and Save $150 PP** off the base rate.
**Book by July 05, 2023. The Book Now rate is only applicable to air-inclusive Iconic Israel tour packages.
**For bookings made after 2023-07-05 call for rates.
ℹ️ View Reservation Information – Tour Operator
Our rates are per person and are subject to change, based on air inclusive package from YYZ. All prices are in Canadian dollars (CAD).
Included in the price: Round Trip Air from Toronto Pearson International Airport, Air Taxes and Fees / Surcharges of $150 per person (subject to increase until paid in total), Iconic Israel Tour, and Hotel Transfers.
Not included in the price: Cancellation Waiver and Insurance of $499 per person.
Aeroplan and other rewards programs can be used for the flight portion, equating to $1625 off the tour rate per person.
Have Questions? Ready to Book?
Contact Robert Townshend at Total Advantage Travel & Tours if you need more information or are ready to book the Iconic Israel Tour.
Iconic Israel Tour Terms & Travel Tips
**Book Now Rates Are Valid On Air-Inclusive Tour Packages Until July 5, 2023!
A deposit of $698 CAD per person plus $499 Insurance is due upon reservation. Reservations are made on a first-come, first-served basis. Reservations made after the deposit due date of July 05, 2023, are based on availability. Final payment is due by October 06, 2023. Deposits are refundable up until July 05, 2023.
**TERMS - Please Note
Proof of Citizenship: Passports and Visas
Foreign governments require documentation for all trips outside Canada. It would help if you visited Global Affairs Canada at https://travel.gc.ca/ for general information about passports and visa requirements. Some countries require a visa in addition to a valid passport for entry, so you must check with the appropriate foreign consulate or embassy for specific entry requirements and details you need to know regarding how and when to obtain the visa. Please remember that possessing valid passports and necessary Visas is the responsibility of each client/passenger. If you would like help making sure you have the proper visa(s) for your trip outside of Canada, we would be happy to refer you to a company that can help you.
We strongly recommend that you have a valid passport (with seven-month validity) for all travel outside Canada. Please be advised transit visas may be required if connecting through a country en route to your final destination.
Insurance
When travelling outside Canada, health insurance is required. Contact our travel consultants for more details.
Travel Conditions
There may be different living standards and practices and different standards and conditions concerning the provision of services and accommodations outside of Canada.
Single accommodations are limited and are available on a first-come, first-served basis.
Modest dress is required when visiting religious sites, sanctuaries, basilicas, etc.
To complete your tour, we include roundtrip airport-to-hotel transfers when purchasing an air-inclusive tour. If you have arranged for your own air, we are pleased to provide you with the option of purchasing these transfers. Please note that all transfers will leave at pre-scheduled times.
In addition to Israel, this tour travels through the occupied Palestinian territory of the West Bank.
**Travel Conditions for Iconic Israel Tour (Itinerary)
This itinerary is focused on culture, history, and everyday life. While at some sites, there may be free time for individual reflection; this tour is unsuitable for travellers or groups who wish to organize religious functions or utilize travel time on the coach for devotion and prayer.
**If the food market tour falls on a Saturday or a Jewish holiday, your food tour will take place at the Mahane Yehuda Market in Jerusalem.
**Due to the fragile health conditions of Holocaust survivors, this interaction may be occasionally replaced with the screening of a poignant recorded testimony.
**If dinner falls on a Friday, you will attend the traditional Shabbat dinner. In such cases, using any electronic device is prohibited due to religious beliefs (including mobile phones and cameras).
**All meals at Tel Aviv, Tiberias, and Jerusalem hotels are served buffet-style, including dinners.
**Time will be allotted while in Bethlehem for entry into the Nativity Grotto. There is often a wait time exceeding 2-3 hours; therefore, you must be prepared to stand in line for the entire time.
**The dinner day in a local restaurant may differ due to local holidays and religious observances. In some rare instances, when your tour falls over the Jewish High Holidays, the dinner in a local restaurant may have to be replaced by an additional meal at the hotel.
Activity Level
The overall activity level on the Iconic Israel Tour is level 3. This means you're an on-the-go traveller. You don't want to miss a thing, so to fully experience this itinerary, you must be able to walk unassisted for 2.5 miles (4 kilometres) and stand for at least 15-60 minutes at a time with no opportunity to sit down. You can navigate hills and uneven ground, climb into various modes of transportation (tuk-tuk, cable car, Zodiac, etc.), and could anticipate elevation changes. In particular, while touring in Jerusalem, you must walk over cobblestones and up/down steep roads for an extended time. You can expect longer days balanced with free time to recharge or set out on your adventure.
This destination's temperatures may exceed 105 F (40.5o C) with high humidity levels, especially in Tel Aviv, Caesarea, and Tiberias. You should bring adequate sun protection and be prepared to walk and stand in the heat with limited shade.
Information About Flights
Please be advised many airlines do not provide advance seat assignments until check-in at the airport. Advance seating will be subject to the airline's terms and conditions.
Air passengers will depart from Tel Aviv airport, and all transfers will depart from Jerusalem for Tel Aviv airport.
Due to flight schedules, you may require a very early morning departure from the hotel on the last day (Day 10). Travel distance from Jerusalem to Tel Aviv's Ben Gurion Airport is approximately 1.5 hours (depending upon traffic conditions). Due to security checkpoints, it is recommended that you arrive at Ben Gurion Airport 3 hours before departure.
---
Land tour with Collette, BC Reg. # 23337; Travel Industry Council of Ontario Reg. # 3206405
Cancellation Waver/Travel Protection - $499 (CAD)
Worry-Free Cancellation
Our industry-leading cancellation waiver offers travellers a full cash refund for the price of the tour right up to the day before departure, minus the small cost of the waiver. Travel worry-free knowing if anything changes, you're protected.
Tour Coverage
Our travel protection plan covers you on tour. You're covered if you must stop your trip or return home early, need medical assistance or evacuation, suffer a baggage loss, or delay on tour for 12 hours or more.
Travel Protection is just $499 per person.
Accommodations
When booking, we will ask you what room category you would like.
A double room has either one large bed or two smaller ones. Double rooms are perfect for couples or travelling with a companion and wishing to share a room. There are plenty of double rooms available on our tours.
A single or solo room has only one bed and may be smaller. These rooms are first-come, first-served, as most properties have only a certain amount available.
A triple room usually consists of a standard double room with two beds. Depending on the room size and local fire codes, a cot or fold-up bed may be added. Triples are first-come, first-served, as they are also very limited. If you booked a triple and only a double and single room is available at a hotel, we will assess appropriate charges for the single and double accommodations.
We will forward your request to the hotel and do our best to accommodate your needs; however, please know that we cannot make any guarantees. 
On every tour, we look to provide the highest quality accommodations in the best location. If you're visiting a city, we want you in the heart of it. In certain countries, the hotel rooms may be smaller than standard hotel rooms in North America.
Here are a few details to keep in mind:
Individual hotels set check-in times that can vary, but most hotels offer afternoon check-ins. You may have to wait before entering your room, depending on your arrival time. Some hotels may be willing to store your luggage in a secure location until your room is ready. In these instances, the hotel is not responsible for lost or stolen items and may charge for this service.
Please observe checkout times at all properties. Hotels designate these as well.
Some hotels require a credit card imprint or passport information upon check-in to activate telephones in the rooms and for potential incidental charges. Most hotels charge an access fee for using phones in hotel rooms. Please check with the front desk personnel at each hotel for specific policies. You will be responsible for all incidental costs during your stay and must pay for them at checkout.
Hotel membership programs are not applicable.
Transfers
We offer full-service transfers from start to finish. So, when you arrive at your destination airport, we transfer you to your first hotel on the tour.
Our air-inclusive Iconic Israel tour package includes this service.
We set meeting locations and times to accommodate your transfer arrival and departure schedules, which we'll provide in your documents packet.
If you decide to arrange your own transportation to the hotel, please check in with your Tour Manager once you arrive.
Transportation
Your comfort is important to us. With that in mind, we charter coaches for The Iconic Israel Tour which are temperature-controlled and have toilet facilities on board. However, in certain countries, coaches with toilet facilities may not be available, or they are for emergency use only. If this is the case, please be assured that they make frequent stops along the touring route for your comfort and convenience.
Change your seat, change your view! At least once a day, the Tour Manager will ask all guests to change seats. They ensure that every guest has an opportunity to enjoy a variety of views as they travel and a chance to get to know each other better. In fairness to all, there will be no exceptions to this policy.
Included Features
At the beginning of your tour, your Tour Manager will distribute a personal radio and headset. You should wear them on sightseeing tours to ensure you can hear your guides clearly. Please bring them with you every day. Your Tour Manager will collect them at the end of your tour, typically on your last evening. You are responsible for returning these devices. We may charge a replacement if they are lost.
Thank you for choosing to travel with us and allowing us to guide you along this adventure! From the moment you step out your door, we strive to provide a comprehensive, stress-free, and unforgettable travel experience. To that end, we include the following features with your tour: motor coach transportation, accommodations, hotel luggage handling (porterage), select meals, admission to attractions as outlined in your itinerary, and gratuities for bellhops, door attendants, and wait staff.
Meals
The food people eat is a window into their history, traditions, and values, and sharing food brings people together. One of the many beautiful aspects of travel is to experience as much of the regional cuisine as possible. Your tour includes many meals as outlined on your itinerary. Our team has carefully chosen restaurants that feature local ingredients and offer regional flavours.
Meals Not Included on Your Iconic Israel Tour Itinerary
For meals not included in your itinerary, your Tour Manager will happily recommend eateries and local businesses that best fit your taste and needs.
The average price for meals in this region ranges from 15 to 25 US Dollars for lunch and 25 to 35 US Dollars for dinner. They include gratuity on the bill. If not, a standard tip is 10-15%.
Water
The water is safe to drink throughout most of Israel, with the Dead Sea being the only exception. You should drink bottled water during this part of your tour.
Be sure to drink plenty of water throughout each day of your tour to stay hydrated.
Food Allergies and Diet Restrictions
Please let your Tour Manager know of any food allergies or dietary needs you may have at the beginning of your tour.
Most restaurants in Israel are Kosher. Breakfasts are generally buffets and do not include breakfast meats.
Local Cuisine
The Food: Iconic Israel Tour
You're in for a treat as you explore the many delicious flavours of Israel.
Israeli food is similar to Middle Eastern and Turkish cuisine. Common ingredients include lentils, nuts, raw vegetables, lamb, and beef.
Dairy products like goat cheese and various yogurts make their way onto many dishes here.
Traditional Mediterranean spices are used more notably in salads and spreads.
Familiar dishes of Israeli cuisine include falafel, hummus, couscous, fish, chicken, and turkey.
Dessert, Fruit Drinks, and Coffee in Iconic Israel
For dessert in Israel, fruit salad, honey cake, and wonder cake — a non-dairy chocolate cake – are common. Perhaps the most popular desserts are the famous rugelach – a sweet dough rolled with sweet fillings – or baklava, a crunchy pastry containing nuts and honey.
Fruit drinks are popular in Israel as the produce is grown locally and incredibly fresh. Typical beverages include mint tea, lemonade, egg cream, and fruit shakes.
Coffee lovers will enjoy Israel's Turkish-style cup of java with its sweet notes of cardamom and caramel.
Tour Manager
Peace of mind for our guests is our number one priority. When you're on tour with us, your only thoughts should be to create lifelong memories. Your Tour Manager is a destination expert on the people, places, history, and culture, ensuring you will have the best experience with us. Please utilize your Tour Manager's expertise for any concerns or questions while on tour.
Time Zone
Israel is 7 hours ahead of Eastern Standard Time and 6 hours ahead of Eastern Daylight Time.
Helpful Hints
Here is a list of entities we recommend you contact before you depart on The Iconic Israel Tour:
Your cell phone/mobile carrier if you plan to use your device. You will want to confirm you have access to the area(s) you will visit and enquire about any charges you incur.
Your credit card company for any card(s) you plan to use. Ensure the card company knows when and where you will be travelling to avoid declined charges.
Your bank so that you can use your ATM/debit card worry-free. If you travel to another country, your bank can tell you if your card will work at the ATMs to dispense local currency, including your PIN. Also, indicate if you plan to use your debit card as a credit card if your card has that option. Your bank will advise you of any charges for each transaction as well.
Other Tips
Leave a copy of your itinerary, hotel list (included in your tour documents bundle), and a contact number with a designated person in case an emergency arises while you're away and someone needs to reach you.
We recommend you leave a copy of your passport at home in a secure location and bring an additional copy as a precaution.
During your flight, stand up, walk around as much as possible, and drink plenty of water. These simple suggestions will help you stay comfortable, particularly during long flights.
Shopping
One of the best parts of travelling is returning home with souvenirs that reflect where you've just been.
In Israel, religious items make popular souvenirs that are not hard to find in the "Holy Land."
Many travellers love to collect beautiful glass-made products, ceramics, and silver in Israel.
Olive wood carvings are extremely popular here.
For those who love beautiful jewels and jewellery, Israel is one of the world's leading diamond manufacturing and trading centres.
If you'd like to bring home a taste of Israel, olive oil and honey are renowned products in this area.
If you purchase DVDs or other electronic equipment, check to be sure it will be compatible with your PC or other home equipment.
Tel Aviv
In Tel Aviv, you'll find streets lined with shops devoted to one particular item: spices, clothing, fabrics, furniture, original gift items, and accessories.
Jerusalem
In Jerusalem, the "Old City," discover souvenirs like artifacts, wooden ornaments, seashells, leather and straw goods, blown glass, and clothing.
Elevation
The highest elevation encountered on this tour is 2,900 feet in Jerusalem.
Gratuities
Tipping is a great way to show appreciation for the people who help keep your tour running smoothly. But it can need clarification on who to tip, when, and how much. We take care of gratuities for baggage handling and waitstaff for included meals. We do not include gratuities for hotel housekeeping staff, local sightseeing guides, transfer drivers, motor coach drivers, and Tour Managers in the price of your tour.
Here are a few of our suggestions:
Tour Manager: To express appreciation for your Tour Manager's excellent service delivery, 5-8 US Dollars (or equivalent in local currency) per person for each travel day is customary. (When to tip: at the end of your tour.)
Motor Coach Driver: To express appreciation for a job well done, 3-5 US Dollars (or equivalent in local currency) per person for each travel day is customary. (When to tip: at the end of your tour or time with your driver.)
Currency
Your personal bank card may work at local ATMs in the destination you are travelling to and dispense local currency. Please get in touch with your bank to determine if this option is available so that your PIN will be accepted to inform them that you are travelling and to determine if any charges apply to each transaction.
Money Exchange
You may exchange money at airports, banks, exchange bureaus, and most hotels. There is a commission charge to exchange your money. Hotels usually offer a better currency exchange rate than airports.
Credit Cards
We recommend carrying only a few major credit cards. Credit card purchases often provide an additional guarantee on your purchase (check with your specific credit card company for details and fees). It is advisable to contact any credit card company you intend to utilize while on tour before you depart to notify them where you will be travelling, to avoid any rejection of services. 
US Dollars & Local Currency
In Israel, local vendors may accept US dollars. We suggest you bring small bills of both US dollars and local currency. We recommend you exchange money upon arrival at your destination, according to your spending needs. Travel dollar cards provide you with added security. They can be obtained through your bank or local travel agencies, although they sometimes are only sometimes accepted in Israel.
The currency in Israel is the New Shekel.
Optional Tours for Purchase with Iconic Israel Tour
Optional tours may be available to purchase; please note that credit cards must have an expiration date greater than 30 days from the start of the tour.
Smoking Restrictions
Our tours are non-smoking throughout. If you require a smoking room, please let your Client Care agent know when you book your tour. Please note we cannot guarantee your request as many hotels prohibit smoking in rooms and on property.
Please be mindful of other locations where smoking is not allowed. These include the motor coach, dining venues, and any other restricted areas on tour. Guests are responsible for any fines they incur for failing to comply with smoking regulations.
See the beauty of places with powerful religious significance.
Humbling and awe-inspiring excursions are the foundations of faith tours. Therefore, they are more than a journey of the body, but a journey of the soul as well.
We'd be happy to answer any questions. So, please give us a call.