The most famous teen wizard of all time has magicked his way into the hearts and book collections of a generation of kids, and their parents, aunts, uncles and grandparents.
And, it's been 20 years since the first film, Harry Potter and the Philosopher's Stone filled theatres and gave us another way to immerse ourselves in the Harry Potter universe.
In addition to anniversary specials airing, you can revisit the life of the young wizard and his friends in film locations across the U.K. From castles to cathedrals and moors and markets, even to the Warner Bros. Studios. You can make your next trip to Britain a celebration of Harry Potter every Potterhead member of the family will enjoy.
So dust off the books, fill up a bowl of popcorn to enjoy again the magic on film. And, contact your expert travel advisor about making Harry Potter part of your next trip to Britain. No broomsticks are required!
SCOTLAND – British Locations
GLENFINNAN VIADUCT, LOCHABER
It's one of the most distinctive and iconic travel images from the Harry Potter films. This thousand-foot high viaduct (pictured, top) is no figment of film designers. Just like Harry and his friends did en route to the Hogwarts School of Witchcraft and Wizardry, you can board the Jacobite steam train – used as the Hogwarts Express train in the movies. And, travel by rail across the dramatic Highland Scottish landscape.
GLENCOE, ARGYLL
Scotland's 'most romantic' glen has done double duty as a location for some of the most memorable scenes in Harry Potter films. The Quidditch matches were filmed in front of Glen Nevis, and its fantastic Steall Falls featured in Harry Potter and the Goblet of Fire's Tri-Wizard Tournament. You may not be able to pick up a match of Hogwarts-style broomstick ball today in Glencoe. But, it's famous for hill walking and as an entry point into the Scottish Highlands.
ENGLAND – British Locations
KING'S CROSS STATION, LONDON
The Hogwarts Express train – that then travels across the Glenfinnan Viaduct in Scotland – departs from Platform 9¾ of London's King's Cross Station. The actual film location (there is no real Platform 9¾) is the arched wall between platforms 4 and 5. On the west side of the station near the entrance to platforms 9, 10, and 11, you can also spot a wall marked 'Platform 9 ¾' and a trolley disappearing into the world of magic. Get into the real Harry Potter spirit at the shop selling all the round glasses and Hufflepuff hair scrunchies you could ever need.
BODLEIAN LIBRARY AND CHRIST CHURCH COLLEGE, OXFORD
Harry Potter films revisited famous Oxford University many times. Its magnificent, 1602 Bodleian Library serves in the film as the Hogwarts library. And, the Divinity School as the Hogwarts hospital. Certainly, this is where anyone falling off a broomstick or touching a cursed opal necklace went to get patched up. Above all, visitors today have to keep solemn silence when visiting the library still used by the Oxford student body.
DURHAM CATHEDRAL, DURHAM
Professor McGonagall's classroom, where he teaches fledgling wizards to turn animals into water goblets, was filmed in Durham Cathedral's Chapter House. Moreover, the same Norman-era cathedral's cloisters appear in Harry Potter and the Philosopher's Stone as the snowy quad where Harry Potter got Hedwig the owl flying.
ALNWICK CASTLE, NORTHUMBERLAND
In the first film, Madame Hooch's broomstick flying lesson takes place in the Outer Bailey of this medieval castle. So, the new Harry Potter legacy continues for current visitors to the castle. Broomstick training still occurs and you can also see wizardry magic shows. Certainly, you can join a tour with a costumed guide sharing behind-the-scenes stories from filming.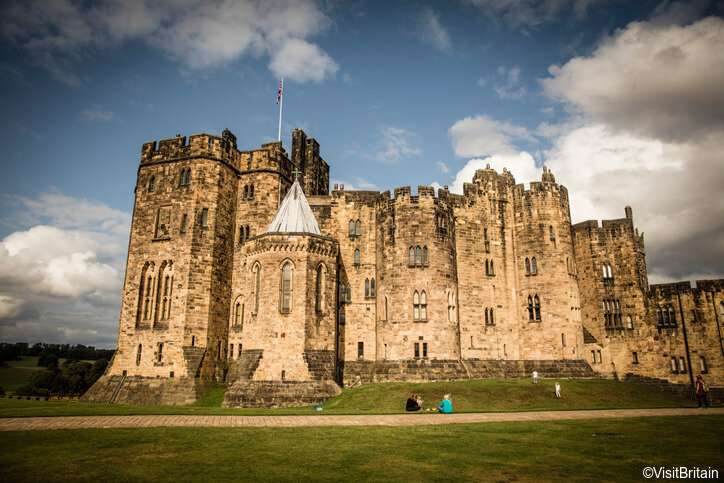 Bonus film location trivia. Alnwick Castle was also the location of Downton Abbey's 2014 Christmas special. And there remains a dedicated exhibit that includes photography, costumes and props from that filming.
LEADENHALL MARKET, LONDON
What's now an optician's in the lyrically-named Bull's Head Passage in Victorian-era Leadenhall Market, therefore for Harry Potter purposes was the Leaky Cauldron wizard pub. In addition, the filmmakers devised Diagon Alley shopping street with spell books and potions that enticed Harry.
Leadenhall Market serves up no magic today but is a great shopping destination for real-life visitors to London today.
WARNER BROS STUDIOS, LEAVESDEN
Harry Potter came to life through the magic of Hollywood in the Warner Bros Studios just outside of London. You can find a model version of the whole of Hogwarts. Moreover, the 1:24 scale construction was used for filming the exterior and aerial shots of the school. It's filled with props used in the productions for real die-hard fans of the Harry Potter films.
---
Images and article courtesy of Visit Britain.
Travel Specialty: ESCORTED TOURS.
Book your trip with Total Advantage Travel & Tours. 1-800-419-1635.